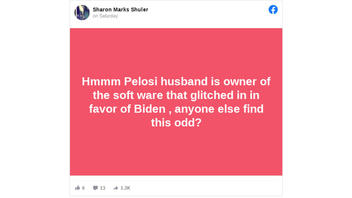 Is it true that the husband of U.S. House Speaker Nancy Pelosi owns a company whose software "glitched" during the election and switched votes from President Donald Trump to Joe Biden? No, this is not true. Pelosi's husband, Paul Pelosi, an investor and businessman, does not own the software company whose product Trump supporters allege rigged the election and Speaker Pelosi's most recent financial disclosure report shows no ownership of election technology companies.
The claim appeared as a meme in a post (archived here) published to Facebook by user Sharon Marks Shuler on November 7, 2020. The post was just the meme, which read:
Hmmm Pelosi husband is owner of the soft ware that glitched in in favor of Biden, anyone else find this odd?
This is what the post looked like on Facebook at the time of writing:
(Source: Facebook screenshot taken on Mon Nov 9 15:24:33 2020 UTC)
There is no source attributed in the claim and no company named.
Trump supporters have alleged, without evidence, that Dominion Voting Systems, a major supplier of election systems and software to local and state election offices, skewed results so that Trump lost, while other Republicans won.
The CEO of Dominion is John Poulos, who founded the company with James Hoover. Other inventors, as the patent shows, were involved -- but none of the names are Paul Pelosi. Lead Stories contacted Dominion Voting Systems, and a spokeswoman said:
This is a false claim being spread on social media."
The only Pelosi connection to Dominion is a former staffer who now lobbies for the company. According to Bloomberg Government, "Dominion's first-ever lobbying firm is Brownstein Farber Hyatt & Schreck. Nadeam Elshami, Pelosi's former chief of staff, is one of the lobbyists on the account." Elshami left Pelosi's office in 2017, according to his LinkedIn profile.
Lead Stories has addressed allegations of secret software supposedly designed to flip votes in Democrats' favor, including here and here.
Lead Stories wrote about allegations that votes were stolen from Trump by corrupted Dominion Voting software and found no evidence for that claim.