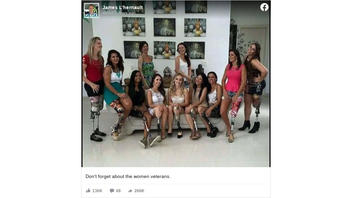 Does this group photo of women with prosthetic limbs depict female veterans who were wounded in battle? No, that's not true: These Brazilian women were gathered to model for a photoshoot that was part of a campaign by a prosthetics company. The photos were for a 2016 calendar intended to raise money to pay for prosthetics for people in need, and also to present positive images of life after amputation.
The image has been circulating, mislabeled as veterans, since 2015. A post (archived here) published on July 1, 2015 resurfaced, and has been shared again on Facebook in November of 2020. The original caption read, "Don't forget about the women veterans."
This is what the post looked like on Facebook at the time of writing:
(Source: Facebook screenshot taken on Mon Nov 30 15:00:33 2020 UTC)
Other editions of the mislabeled photo have the caption right on the photo. This version says, "Let's not forget our wounded female veterans. Respect."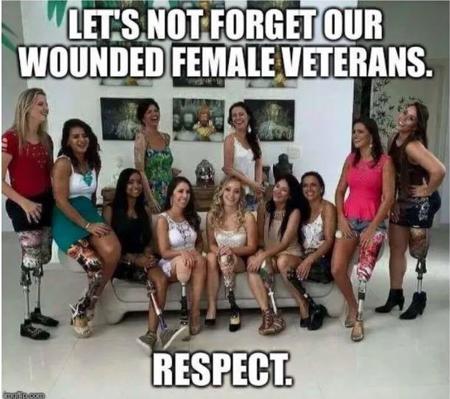 This is not a photo of wounded female United States war veterans. The photo is from a calendar project and the story was told in the Brazilian publication, Globo News, "Amputee models meet in calendar photo shoot" on February 2, 2015. A slideshow of additional photos from the calendar project is presented here, "PHOTOS: Disabled models meet in rehearsal for calendar- Young people from various parts of the country met in Sorocaba for a charitable project." The person who conceived of the project was Nelson Nolé, the general director of the prosthetics company Conforpés, from Sorocaba, Brazil. He explained in the article that the calendar would be sold nationally and the proceeds will cover, in addition to the campaign costs, a fund that will be created to help families who cannot afford the prostheses. He also said that part of the campaign's goal was to project a positive attitude:
To stimulate beauty, to show that you have life after the amputation and that these people with needs have a normal life. That you can go to a club, go out with friends, date.
The article explains the women who participated were not professional models and had come to the photoshoot in Sorocaba from several states in Brazil. The women were from a variety of backgrounds. Although the article did not explore the personal story of every woman, the question of serving in the military or having been wounded in war was not mentioned. One woman was a banker, another a civil servant in the city hall of her town, another, a competitive swimmer.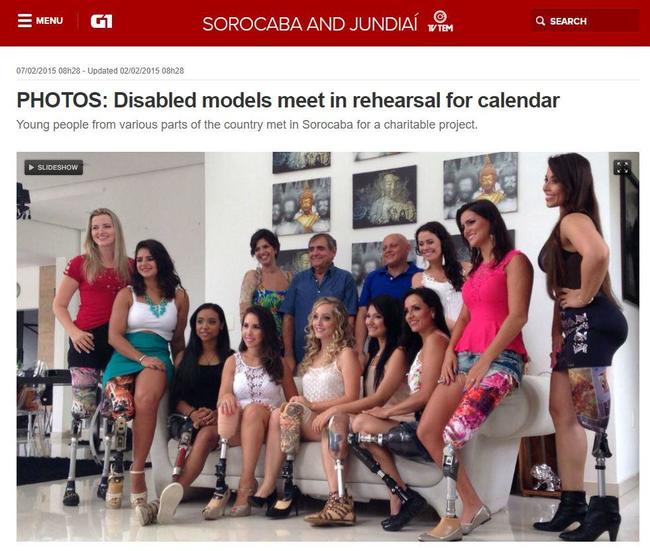 Screenshot from the Globo News Slideshow about the photoshoot including Conforpés General Director, Nelson Nolé and Executive Director,

Nelsinho Nolé