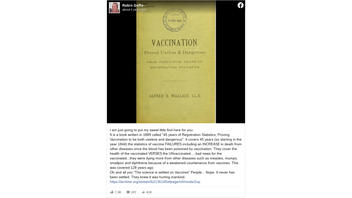 Was it proven over 100 years ago that vaccines are "hurting mankind"? No, that's not true: This research, which appears in Alfred Wallace's 135-year-old book, "Forty-Five Years of Registration Statistics, Proving Vaccination to be Both Useless and Dangerous," is full of falsehoods, including the title.
And more than a century of research data has accumulated since it was written.
The claim appeared in a Facebook post (archived here) where it was published on May 19, 2017. The caption read in part:
It is a book written in 1889 called "45 years of Registration Statistics, Proving Vaccination to be both useless and dangerous". It covers 45 years (so starting in the year 1844) the statistics of vaccine FAILURES including an INCREASE in death from other diseases once the blood has been poisoned by vaccination...




Oh and all you "The science is settled on Vaccines" People... Nope. It never has been settled. They knew it was hurting mankind.
This is what the post looked like on Facebook at the time of writing: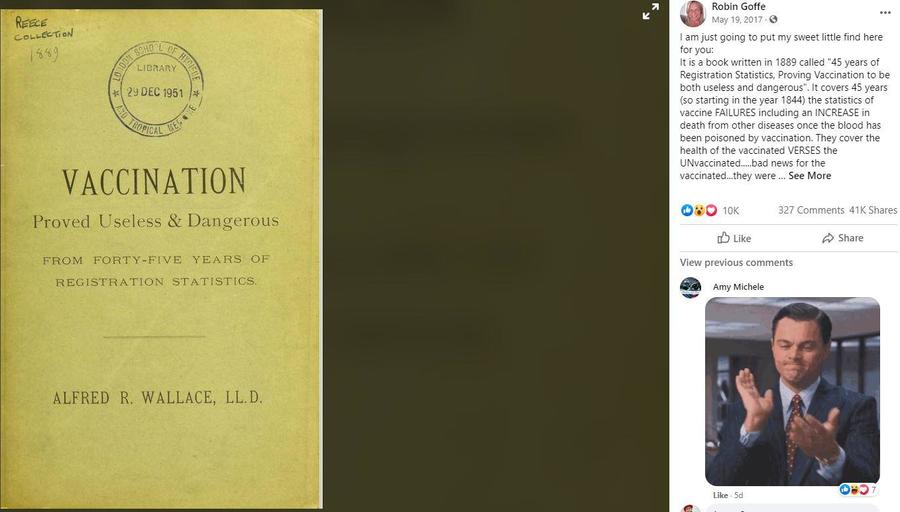 (Source: Facebook screenshot taken on Mon Nov 30 16:36:37 2020 UTC)
Although this Facebook post is over three years old, it is going viral once again, likely because the availability of the COVID-19 vaccine is on the horizon.
Vaccines are not "hurting mankind," as they avert 2 million to 3 million deaths a year, according to 2019 statistics from the World Health Organization.
Nor is not true that vaccines are "useless and dangerous," as the title of the book states and the Facebook post reiterates. Vaccines may be dangerous for some groups due to age, illness or a diminished immune system. But on the whole, vaccines are not dangerous and they certainly aren't useless in fighting disease -- take smallpox for example.
Over the years since Wallace's work, it has become increasingly evident that his staunch antivaccination beliefs are without merit. Wallace, a British naturalist, is partly remembered today for being opposed to the required smallpox vaccination and his book referenced in the Facebook post starts out by arguing that the smallpox vaccination is ineffective. About 65 years after Wallace's death, smallpox was eradicated from the entire planet thanks to the vaccine, according to the Centers for Disease Control and Prevention.
A publication that is 135 years old and is now cited as a scientific reference is questionable because of the innumerable scientific advances that have occurred in more than a century. When this book was written, penicillin had yet to be discovered, not to mention dozens of other life-preserving medications and vaccines.
While Wallace might have been a renowned biologist for his work on the theory of evolution, his writings on vaccines have since been proven false.
Read more Lead Stories reporting on vaccines here.