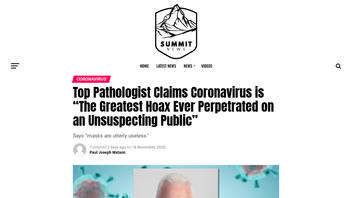 Is Canadian pathologist Dr. Roger Hodkinson correct when he asserts that COVID-19 is "the greatest hoax ever perpetrated on an unsuspecting public" and "just another bad flu"? No, neither of those claims is true: Data from the CDC show that COVID-19 deaths so far in the United States are four times greater than the highest level of deaths reported each year from flu. Similarly, data from the WHO show that COVID deaths worldwide so far are more than double the average number of global flu deaths. Clearly, the severity of COVID-19 is not a hoax and the fatality rate for the disease surpasses that of even the worst year for the flu. Health officials also point out that COVID-19 is more easily transmitted than the flu.
The claim appeared in an article published by Infowars on November 18, 2020, titled "Top Pathologist Claims Coronavirus is 'The Greatest Hoax Ever Perpetrated on an Unsuspecting Public'" (archived here) which opened:
Top pathologist Dr. Roger Hodkinson told government officials in Alberta during a Zoom conference call that the current coronavirus crisis is "the greatest hoax ever perpetrated on an unsuspecting public."

Hodkinson's comments were made during a discussion involving the Community and Public Services Committee and the clip was subsequently uploaded to YouTube.
Users on social media only saw this title, description and thumbnail:
Hodkinson, a pathologist who received his medical education in the United Kingdom but has practiced in Canada for more than 40 years, said on the call he also has experience in virology, according to the article. His background means, he said, "I might know a little bit about all this." He told the committee:
There is utterly unfounded public hysteria driven by the media and politicians, it's outrageous, this is the greatest hoax ever perpetrated on an unsuspecting public.
He ascribed ulterior motives to the alarm over COVID-19, saying it's:
politics playing medicine, and that's a very dangerous game."
Hodkinson further says current efforts to prevent spread of the virus are not effective:
... social distancing is useless because COVID is spread by aerosols which travel 30 meters or so before landing. ...

Masks are utterly useless. There is no evidence base for their effectiveness whatsoever.

Paper masks and fabric masks are simply virtue signalling. They're not even worn effectively most of the time. It's utterly ridiculous. Seeing these unfortunate, uneducated people - I'm not saying that in a pejorative sense - seeing these people walking around like lemmings obeying without any knowledge base to put the mask on their face.
The vast majority of the medical, scientific, and public policy community disagrees with Hodkinson. The Royal College of Physicians and Surgeons of Canada, to which Hodkinson has belonged since 1976, issued a statement Nov. 20, 2020, mentioning him by name and taking exception to his views. The statement, titled "Clarification on statements made regarding COVID-19 by Dr. Roger Hodkinson," said in part:
The Royal College believes COVID-19 presents a serious threat to the health of Canadians. The Royal College strongly supports all public health advice given by the Chief Public Health Officer of Canada, including recommendations to practise physical distancing and to wear masks to help prevent COVID-19 transmission. We are very appreciative of the dedication and commitment of our Royal College Fellows, residents and all front-line health care workers in the fight against COVID-19.
Just a look at the raw numbers, especially those comparing COVID-19 with seasonal flu, indicate the seriousness of the disease.
According to the CDC, the tally in the United States for COVID-19 as of November 23, 2020, was:
12.17 million cases
255,958 deaths
For seasonal flu, the CDC reports annual tallies of:
9 million - 45 million cases
12,000 - 61,000 deaths
The World Health Organization reports that globally as of November 23, 2020, COVID-19 has account for:
58.42 million cases
1.38 million deaths
By comparison, the WHO says the seasonal flu globally has an annual tally of:
1 billion cases, with 3 million to 5 million being severe
290,000 - 650,000 deaths
And even these stark statistical differences may underplay the dangerousness of COVID-19, especially compared with the flu. Writing in the Journal of the Medical Association on May 14, 2020, in the infancy of the epidemic, physicians Jeremy Samuel Faust and Carlos del Rio said the comparison of:
... deaths from COVID-19 and seasonal influenza does not match frontline clinical conditions, especially in some hot zones of the pandemic where ventilators have been in short supply and many hospitals have been stretched beyond their limits. The demand on hospital resources during the COVID-19 crisis has not occurred before in the US, even during the worst of influenza seasons. Yet public officials continue to draw comparisons between seasonal influenza and SARS-CoV-2 mortality, often in an attempt to minimize the effects of the unfolding pandemic.
University of Georgia professor John Drake, who is director of the Center for the Ecology of Infectious Diseases, demonstrated in the October 6, 2020, issue of Forbes that COVID-19 is more than twice as transmissible than flu and 54 times more lethal than influenza.
The university's ecology center makes it clear how seriously scientists there view the COVID-19 virus, saying on its website:
The COVID-19 Pandemic is one of the most significant zoonotic events in human history. In addition to the devastating loss of human life, the pandemic has profoundly disrupted economies, altered how we emotionally interact and comfort each other, and pushed disease modelers and other researchers to find solutions that will help policy makers and civic and industrial leaders guide us in an uncertain world.
The healthline.com online publication, which has a medical affairs team of 10 physicians, nurses, pharmacists and other professionals, pointed out in a May 14, 2020, article titled "Here's Why COVID-19 Is Much Worse Than The Flu" many of the same arguments, among them:
There's no vaccine yet for COVID-19 and community-wide immunity hasn't built up.

COVID-19 is also more infectious than the flu and has a higher death rate.

COVID-19 also has a higher rate of hospitalizations.
Hodkinson, who believes COVID-19 concerns are a hoax, also appears to adhere to the belief that herd immunity through contagion is the best way to deal with the pandemic. The Mayo Clinic defines herd immunity this way:
Herd immunity occurs when a large portion of a community (the herd) becomes immune to a disease, making the spread of disease from person to person unlikely. As a result, the whole community becomes protected -- not just those who are immune.

Often, a percentage of the population must be capable of getting a disease in order for it to spread. This is called a threshold proportion. If the proportion of the population that is immune to the disease is greater than this threshold, the spread of the disease will decline. This is known as the herd immunity threshold.
There are two ways to achieve herd immunity: by vaccination or by allowing a large segment of the population to become infected while protecting the elderly and those medically susceptible to complications.
Herd immunity, also known as 'population immunity', is a concept used for vaccination, in which a population can be protected from a certain virus if a threshold of vaccination is reached.

Herd immunity is achieved by protecting people from a virus, not by exposing them to it.
A small set of health professionals prefer allowing people to become infected to achieve herd immunity. The Great Barrington Declaration, issued on October 4, 2020, is a recent example. The document, written by three public health experts from Harvard, Stanford and Oxford, encourages governments to lift lockdown restrictions on the young while protecting the elderly and infirm. It states:
The most compassionate approach that balances the risks and benefits of reaching herd immunity, is to allow those who are at minimal risk of death to live their lives normally to build up immunity to the virus through natural infection, while better protecting those who are at highest risk. We call this Focused Protection.
The declaration also makes the point that lockdowns have their own pitfalls:
Restrictions have caused other harms, including lower childhood vaccination rates, worsening cardiovascular disease outcomes, fewer cancer screenings, and deteriorating mental health...
But the majority of health care and policy-making officials reject lifting lockdowns. For example, the Twitter feed for the government of Alberta, the Canadian province where Hodkinson made his proclamation, is replete with information and warnings about the dangers of COVID-19.
Two scientists from the University of Georgia published in the Proceedings of the National Academy of Sciences on October 13, 2020, the results of a study that demonstrates that "herd immunity is an impractical strategy." Toby Brett, a postdoctoral associate at the Odum School of Ecology and the study's lead author, explained why in an article on the school's website:
"The herd immunity concept is tantalizing because it spells the end of the threat of COVID-19. However, because this approach aims to avoid disease elimination, it would need a constant adjustment of lockdown measures to ensure enough --but not too many-- people are being infected at a particular point in time. Because of these challenges, the herd immunity strategy is actually more like attempting to walk a barely visible tightrope."
One of the most notable examples of the apparent problem with herd immunity through infection can be found in Sweden, which has had no lockdowns but is now suffering through one of the worst infection surges in Europe. The government mandated on Nov. 21, 2020, that the size of public gatherings would be limited and bars and restaurants must close by 10:30 pm.
Business Insider chronicled Sweden's problems in a November 13, 2020, story:
Sweden's chief epidemiologist has acknowledged the country is experiencing a second surge in coronavirus cases despite previously predicting that the number of infections in the autumn would be "quite low" because of the country's no-lockdown policy. ...

The latest figures, however, show Sweden is experiencing higher levels of infections, hospitalizations, and deaths than its neighbors, relative to its population size, the Financial Times reported on Thursday. ...

Hospitalizations have also increased dramatically, with more than 1,000 patients with COVID-19 being treated in hospitals, a 60% increase from last week. The figures were reported by the state broadcaster SVT and cited by The Guardian.
Not much is publicly known about Hodkinson, other than he has had ownership or leadership roles in several biotechnology companies. He told the committee during his call that he is the chairman of a biotechnology company in North Carolina that sells COVID-19 tests, but he did not name the company. Hodkinson is named in a July 16, 2019, news release as one of two principals for a company named MutantDX, which appears to be based in Greensboro, N.C.
More information on his affiliations with other biotechnology companies can be seen here and here.
Hodkinson says he studied medicine at the University of Cambridge in the United Kingdom, but Lead Stories could not independently verify that. The university told Lead Stories in an email it cannot divulge alumni information without the permission of the graduate.
The Royal College of Physicians and Surgeons of Canada told Lead Stories in a telephone interview on November 20, 2020, that Hodkinson is a member in good standing and was certified as a general pathologist on November 22, 1976.
NewsGuard, a company that uses trained journalist to rank the reliability of websites, describes summit.news as:
A website launched in March 2019 by an editor from InfoWars that publishes conspiracy theories and far-right commentary.
According to NewsGuard the site does not maintain basic standards of accuracy and accountability. Read their full assessment here.