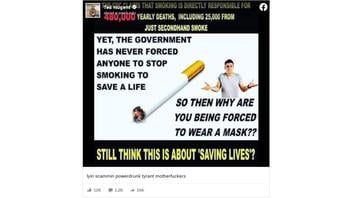 Is it true that the U.S. government has "never forced anyone to stop smoking" to save lives? No, that's not true: There are many places where smoking is prohibited to preserve the health of others.
The claims appeared from a post (archived here) where it was published by singer-songwriter Ted Nugent on November 13, 2020, with the caption "lyin scammin powerdrunk tyrant motherf*****s." The meme read:
THE CDC CLAIMS THAT SMOKING IS DIRECTLY RESPONSIBLE FOR 480,000 YEARLY DEATHS, INCLUDING 25,000 FROM JUST SECONDHAND SMOKE

YET, THE GOVERNMENT HAS NEVER FORCED ANYONE TO STOP SMOKING TO SAVE A LIFE

SO THEN WHY ARE YOU BEING FORCED TO WEAR A MASK??

STILL THINK THIS IS ABOUT 'SAVING LIVES'?
This is what the post looked like on Facebook at the time of writing:
(Source: Facebook screenshot taken on Fri Nov 20 20:50:05 2020 UTC)
The government has been forcing people to stop smoking in a growing number of places since the early 1970s. The U.S. surgeon general first identified secondhand smoke as posing a health risk in 1972. The U.S. government has banned smoking in many places, in large part to protect others from secondhand smoke.
The prohibition of smoking is similar to mask mandates -- state governments that have imposed such requirments or encouraged masks in public are not asking residents to wear masks everywhere, just where people carrying the virus could be a threat to others. At least 37 states mandate masks in public as of Nov. 20, 2020, according to AARP.
At the time of this writing, there have been over 256,000 recorded COVID deaths in the U.S. in less than a year, according to the Johns Hopkins coronavirus dashboard. There are currently projected likely to be 470,974 COVID-19 deaths by March 1, 2021, according to the Institute for Health Metrics and Evaluation. According to this same model, if the mask usage rate climbs to 95% in every public location, the number of deaths is projected to be cut to 406,000 by the same date. So yes, wearing a mask is about saving lives.
The post is correct that smoking kills over 480,000 people annually in the United States. But according to the Centers for Disease Control and Prevention, 41,000 of those deaths are caused by secondhand smoke exposure, not 25,000 as the post claims.