STORY UPDATED: check for updates below.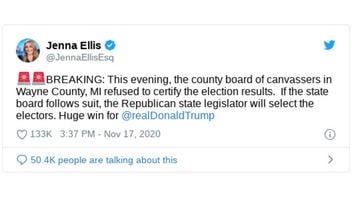 Did the Wayne County, Michigan, Board of Canvassers "refuse" to certify the presidential election results? No, that's not true: First, the board of four deadlocked in a 2-2 tie over certifying the votes. Then a couple hours later, the board unanimously agreed to certify the results. The delay in certifying the votes was only temporary.
The claim appeared in a tweet (archived here) published by Jenna Ellis, a Trump campaign lawyer, on November 17, 2020. It read:
"BREAKING: This evening, the county board of canvassers in Wayne County, MI refused to certify the election results. If the state board follows suit, the Republican state legislator will select the electors. Huge win for @realDonaldTrump"
This is what the post looked like on Twitter at the time of writing:
(Source: Twitter screenshot taken on Wed Nov 18 17:04:21 2020 UTC)
This tweet was posted in the interim between the deadlock and the eventual agreement, so when it was posted, it was factual.
After the first vote was tied along party lines, testimony poured in from Wayne County residents and Democratic Gov. Gretchen Whitmer stating that the results should be certified.
Wayne County is an important county in Michigan because it is the most populous county in the swing state, with Detroit as its county seat, and it has the highest population of Black voters in the state by a large margin.
President Trump tweeted a similar statement to Ellis', only he tweeted it three minutes after the board's second vote unanimously approving certification:
Wow! Michigan just refused to certify the election results! Having courage is a beautiful thing. The USA stands proud!

-- Donald J. Trump (@realDonaldTrump) November 18, 2020
Jocelyn Benson, the Michigan secretary of state, pointed out that the deadlock was not an indication that any votes were miscounted:
Michigan's Bureau of Elections stands ready to fulfill its duty to complete the canvas for Wayne County, address any clerical errors and improve the quality of the canvass overall. Importantly, this is not an indication that any votes were improperly cast or tabulated.

-- Jocelyn Benson (@JocelynBenson) November 18, 2020
2020-11-18T19:42:26Z

2020-11-18T19:42:26Z

Updated to fix a broken link to Gov. Whitmer's statement.