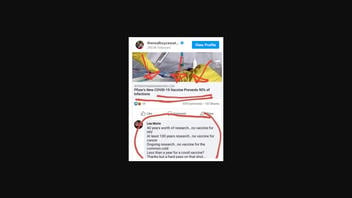 Did researchers develop a vaccine for COVID-19 in a year, while vaccines for HIV, cancer and the common cold remain elusive? Yes, but it's not an apples-to-apples comparison. The diseases are different from one another, which means that the challenges around creating vaccines for them are distinct. HIV mutates faster than coronaviruses do; many forms of cancer aren't caused by a virus, and there are -- in fact -- vaccines for some viruses that can lead to cancer; while colds aren't caused by a single virus, complicating efforts to develop an effective vaccine.
The claim appeared in an Instagram post (archived here) on November 30, 2020. The post read:
This does make you wonder: How did you come up with this so fast, but you can't vaccinate against viruses that have been harming people for centuries?
This is what users saw on social media:
The post included a screenshot of a news article announcing a new COVID-19 vaccine. A user's comment was posted underneath and circled in red. The comment read:
40 years worth of research...no vaccine for HIV At least 100 years research...no vaccine for cancer Ongoing research...no vaccine for the common cold Less than a year for a covid vaccine? Thanks but a hard pass on that shot...
The post is missing important context because it fails to consider the important differences between those diseases.
HIV, for example, presents challenges that are distinct from those presented by SARS-CoV-2, the virus behind COVID-19. STAT News explained:
SARS-CoV-2 causes an acute disease, Covid-19. It's an infection that most people will clear on their own, which means there's a vanquishing immune response that a vaccine can aim to induce in order to protect people.

That's not true for something like HIV, a virus for which there is no vaccine despite decades of research. HIV causes a chronic infection and integrates itself into people's genomes; there's no natural immune response that eliminates the virus that a vaccine can mimic. HIV also mutates much faster than coronaviruses do, meaning it's more difficult to rally a lasting defense.
Similarly, cancer and COVID-19 present very differently. There are many different types of cancer, and a lot of them aren't caused by a virus. However, some viruses can lead to cancer, and there are vaccines for some of those viruses. For example, human papillomaviruses, or HPVs, can cause cervical and other cancers. The hepatitis B virus can also increase the risk of cancer, specifically liver cancer. Both HPV and hepatitis B vaccines are available.
Lastly, the post mentioned the common cold, asking why there's not a vaccine for the disease, despite years of research. The answer is twofold. First, it's usually a mild illness and researchers generally focus their energy on diseases that are lethal. Second, some 200 different varieties of viruses can cause colds, complicating efforts to develop an effective vaccine.
In sum, there are countless differences between COVID-19 and HIV, cancer and the common cold. Although vaccines typically take years to develop, it's not impossible or unreasonable that researchers were able to develop a vaccine for COVID-19 in record time, while other vaccines remain in the works. Every disease is unique. The path to understanding each and developing vaccines is distinct, too.