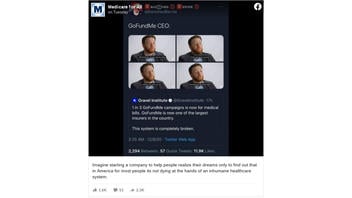 Did the CEO of GoFundMe say, "I run a website that hosts popularity contests where if you lose, you die"? No, that's not true: The purported quote came from a spoof interview posted by CollegeHumor, an entertainment website. The quote, like the interview, is not real.
The claim appeared in a Facebook post (archived here) published on December 8, 2020. The post, which included screenshots of someone identified as the CEO of GoFundMe, along with quotes, opened:
Imagine starting a company to help people realize their dreams only to find out that in America for most people its not dying at the hands of an inhumane healthcare system.
This is what the post looked like at the time of writing:
(Source: Facebook screenshot taken on Wed Dec 9 19:58:12 2020 UTC)
The purported quotes read:
[Director] Um, are you, are you okay?

[CEO] I run a website that hosts popularity contests where if you lose, you die. Would you be doing all right?
The written quotes are faithful to the original video, but the interview itself is not real. It was a spoof segment. The man shown is not the CEO of GoFundMe. You can watch the full video from CollegeHumor below:
The post also included the following statement:
1 in 3 GoFundMe campaigns is now for medical bills. GoFundMe is now one of the largest insurers in the country. This system is completely broken.
This, in part, is true. Rob Solomon, the then-CEO of GoFundMe, told CBS MoneyWatch in January 2019 that one-third of donations made through the site help cover the costs of medical care. He said:
When we started in 2010, it wasn't purposefully set up and built to be a substitute for medical insurance ... We weren't ever set up to be a health care company and we still are not. But over time, people have used GoFundMe for the most important issues they are faced with.
Tim Cadogan replaced Solomon as CEO in March 2020.