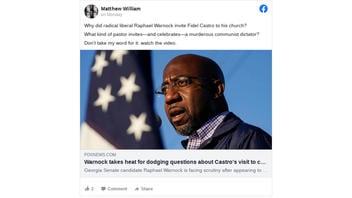 Did Raphael Warnock "invite Fidel Castro to his church"? No, there's no evidence that's true: Warnock, who is running for the U.S. Senate to represent Georgia, was a youth pastor at New York City's Abyssinian Baptist Church, where the former Cuban leader spoke in 1995. Warnock has said he did not invite Castro, never met him and "did not make any decisions regarding the program." Warnock is now senior pastor at Ebenezer Baptist Church in Atlanta.
The claim appeared in a Facebook post (archived here) published on December 7, 2020. It read:
Why did radical liberal Raphael Warnock invite Fidel Castro to his church?

What kind of pastor invites--and celebrates--a murderous communist dictator?

Don't take my word for it: watch the video.
This is what the post looked like at the time of writing:
(Source: Facebook screenshot taken on Thu Dec 10 15:28:06 2020 UTC)
The post included a link to a Fox News article. To be clear, this fact-check does not address the contents of that article. It's limited to the claim that Warnock invited Castro to his church.
The longtime communist leader visited Abyssinian Baptist Church in October 1995. At that time, Warnock worked at the church as a youth pastor.
He told CNN's Jake Tapper:
I was a youth pastor. I had nothing to do with that program. I did not make any decisions regarding the program. I have never met the Cuban dictator.
The issue resurfaced during a December 6, 2020, debate with Sen. Kelly Loeffler. Loeffler, a Republican, and Warnock, a Democrat, are running to represent Georgia in the U.S. Senate. When asked to comment on whether he invited Castro, Warnock responded:
I never met him. I never invited him. He has nothing to do with me.
One day later, his campaign issued a press release addressing the accusation. The release cited a fact-check from PolitiFact, which found "no evidence Warnock was involved in arranging the speech or in welcoming Castro." Neither Warnock nor his campaign has said whether he attended the event.
Lead Stories reached out to the Warnock campaign, which reiterated that Warnock was not involved with inviting Castro to the church. In an email, the campaign stressed that Warnock was a very junior member and did not make decisions about who was asked to speak in front of the congregation. He was not part of the speaking program and had no role in the event, the campaign said.
Castro died in 2016. Warnock is now senior pastor at Atlanta's Ebenezer Baptist Church.