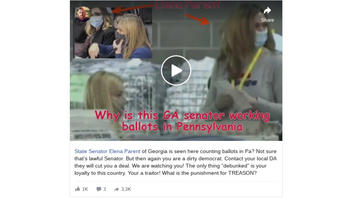 Was Georgia state Sen. Elena Parent busted counting ballots in Pennsylvania? No, that's not true: A video that purportedly captures her counting votes does not show Parent but a local poll worker in Pennsylvania. Parent told Lead Stories that she's not been to Pennsylvania in 2020 and has never counted ballots in a state or local election. A spokeswoman for the Pennsylvania county where the video is from confirmed that it shows a woman who works on property assessments, not Parent. Lastly, a top election official in Georgia debunked the claim, describing it as "ridiculous."
The allegation appeared in a Facebook post (archived here) on December 6, 2020. The post included a short video of poll workers counting votes. Overlaid on top of the video was a photo of Parent and arrows that identified her as the same woman in the video. The post read:
State Senator Elena Parent of Georgia is seen here counting ballots in Pa? Not sure that's lawful Senator. But then again you are a dirty democrat. Contact your local DA they will cut you a deal. We are watching you! The only thing "debunked" is your loyalty to this country. Your a traitor! What is the punishment for TREASON?
This is what the post looked like on Facebook at the time of writing:
(Source: Facebook screenshot taken on Wed Dec 9 14:58:18 2020 UTC)
The original video, which was taken by The Associated Press on December 7, 2020, shows poll workers counting votes at a warehouse in Allegheny County, Pennsylvania.
Lead Stories reached out Allegheny County spokeswoman Amie Downs, who identified the woman in the video as someone who works on county property assessments, not Parent. The woman is not interested in being identified or giving interviews, per Downs.
We also reached out to Parent, who confirmed that she's not the woman in the video. She wrote:
I am not depicted in the video or stills. I have not been to Pennsylvania any time in 2020, and I have never counted ballots in a state or local election.

These discredited claims are being made because I told the truth to [Donald] Trump's legal team during the election hearing: No 'evidence' was being presented to Georgia State Senators that was new and there is no evidence of widespread fraud in Georgia's November election.
Parent, a Democrat, was referring to a hearing that took place on December 3, 2020. Since then, her personal information has been shared online and she's received death threats.
Gabriel Sterling, the voting system implementation manager in Georgia, addressed the claim about Parent traveling to Pennsylvania to count votes. At a December 7, 2020, press conference, he told reporters:
[State Sen.] Jen Jordan and Elena Parent did not get on a plane to go count votes in Pennsylvania, okay? They basically said here's a picture of a blonde woman in a mask. Here's another picture of a blonde woman in a mask. Obviously, the conspiracy where Democrat state senators are counting ballots in Pennsylvania -- it's ridiculous. I can't believe I keep on standing here and saying these things, but I do.
For all of the above-stated reasons, we rate the Facebook post as false.