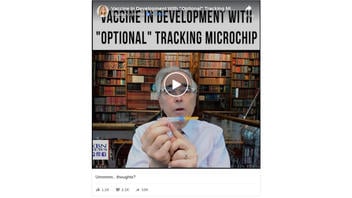 Will a Radio Frequency Identification Chip that may be on the ApiJect COVID-19 vaccine syringes be injected into patients and would it track who has been vaccinated and where they are? No, that's not true: The tiny RFID chips would be placed under the syringe label and not be injected into patients, ApiJect Systems Corp spokesman Steven Hofman told Lead Stories. Although a chip can track the location of a shot, it won't track individuals. The chip will allow healthcare workers to check if the vaccine has expired.
The claims appeared in a video (archived here) on Facebook on December 9, 2020, which features parts of a news video, along with added text, under the title, "Ummmm...thoughts?" The added text included:
The Chip would give officials information on who has and has not been vaccinated, as well as when doses expire.

The chip tracks the location of the patient, so that officials can know where the vaccinated patients are and accordingly plan to increase vaccinations in locations with outbreaks.

Walker says the chip is optional.
This is what the post looked like on Facebook at the time of writing:
(Source: Facebook screenshot taken on Sat Dec 12 18:24:02 2020 UTC)
The video features an interview with Jay Walker, chair of medical technology company ApiJect Systems Corp., which was clipped from a CBN News video published on May 22, 2020. But the Facebook video shows only parts of the 5 minute, 35 second news video, and at certain points greys out the video, turns down the volume and overlays it with the previously mentioned added text.
The Facebook video includes a statement made by Walker about the chips in the original news video:
Each of these devices that are injections have the capacity to also have a small chip. What that chip does is it has the unique serial number for each dose. It is designed so that there is no counterfeiting. It's designed so that we'll know exactly that the right dose hasn't expired.
But it excludes another remark he makes about the chip, in which he says:
However, that chip only refers to the dose. There's no personal information, no patient information. It's simply like a bar code, only we know instantaneously where and when that dose has been used. That also helps public health officials know when there are outbreaks, 'Have we vaccinated enough people in those areas?' That technology is purely optional, however and the U.S. government hasn't even decided if they're going to use it.
Hofman told Lead Stories during phone calls on December 11, 2020 and December 12, 2020 that the chip will be underneath the label of the syringe and not be injected into patients. He also explained that the chip does not have the ability to gather such personal information as who gets vaccinated. He then said the chip won't track individual patients' location, but it will track the location of a shot. He explained:
In other words, if 50 syringes were used in a particular area, that record would be kept so that you could know, are you hitting hotspots, are you reaching enough of the communities that you want to reach so that it will again help the health policy of people understand and oversee the allocation of the vaccines. But it doesn't tell you, this person got an injection, that person got an injection. It doesn't tell you any of that.
The chip, he said, will also be able to connect through a smartphone to information on that vaccine batch.
That information will be available instantaneously to the healthcare professional who is injecting the patient, so they will know immediately whether or not the injectable is counterfeit or not, has expired or not.
The chip is optional for vaccine purchasers, which include public health officials and governments, according to Hofman, and so far, it hasn't been requested.
The video was posted by Elizabeth Johnston, and features a URL that links to Johnston's website. Johnston describes herself on the website as "an activist, blogger, speaker, and best-selling author who educates and inspires the public on the burning social and moral issues of the day." Lead Stories sent her a message on December 11, 2020 asking for further clarification on the information contained in the video and will update this fact check, if appropriate, when she responds.
Another Facebook post by Johnston was also debunked by Lead Stories.