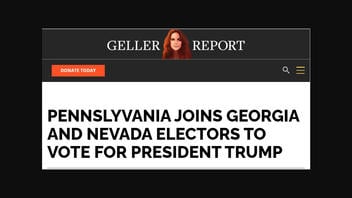 Did presidential electors in Pennsylvania, Georgia and Nevada cast their electoral college votes for President Donald Trump? No, that's not true: Joe Biden got all of the electoral college votes in those three states, a result of the Biden-Harris ticket winning the majority of the certified votes there. Electors gathered at state capitols around the United States Monday, December 14, 2020, to cast their votes. There were no "faithless electors" in the process, which means each elector voted along the lines of their state's popular vote.
The claim appeared in an article published by Geller Report News on December 14, 2020 titled "PENNSLYVANIA JOINS GEORGIA AND NEVADA ELECTORS TO VOTE FOR PRESIDENT TRUMP" (archived here) which opened:
Biden is not legitimate.
Users on social media only saw this title, description and thumbnail:
Biden is not legitimate.
The Geller Report News article did not provide any sourcing to support the claim that Trump got the elector votes in Pennsylvania, Nevada, or Georgia. The article did include links to reports that Republicans who were nominees to be presidential electors declared their support for Trump, but those people were not eligible to be electors. They failed in their bids to be electors when the majority of their state's votes went to Biden.
In Georgia, a Republican who had been nominated to be an elector posted on Facebook that he and the other GOP nominees took "decisive action by casting their votes in support of Donald J. Trump," yet they did not have votes to cast. They were not elected to be electors.
Earlier this year, I was honored to have been nominated to represent the state of Georgia as a member of the Electoral College.

Right now, the Republican slate of Georgia electors is taking decisive action by casting their votes in support of Donald J. Trump.

#StopTheSteal
NewsGuard, a company that uses trained journalist to rank the reliability of websites, describes gellerreport.com as:
A blog run by activist Pamela Geller that portrays Islam and its adherents in a negative light. The site has published false claims about former U.S. President Barack Obama and the COVID-19 pandemic.
According to NewsGuard the site does not maintain basic standards of accuracy and accountability. Read their full assessment here.