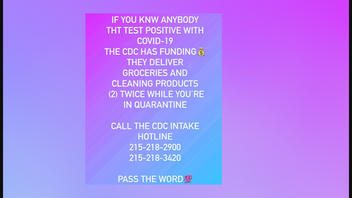 Can COVID-19 patients in quarantine call a CDC hotline to get free groceries and cleaning products delivered to their home? No, that's not true: The U.S. Centers for Disease Control does not have a special fund for home grocery deliveries for quarantined patients. A telephone number included in a meme making the claim is a number for Philadelphia's Department of Health, not the CDC. The number will not connect callers to a free grocery hotline. (The Philadelphia agency's website does include information about food banks where any Philadelphian, not just COVID-19 patients, can pick up free groceries.)
The claim appeared as a meme in a post (archived here) shared on Instagram on December 4, 2020. It read:
IF YOU KNW ANYBODY THT TEST POSITIVE WITH COVID-19

THE CDC HAS FUNDING THEY DELIVER GROCERIES AND

CLEANING PRODUCTS (2) TWICE WHILE YOU'RE IN QUARANTINE

CALL THE CDC INTAKE HOTLINE
This is how the post appeared at the time of writing:
(Source: Instagram Screenshot 12/14/2020 10:00 AM EST)
Lead Stories reached out to the communications director of the Philadelphia Department of Public Health, James Garrow, by email. He replied:
Those phone numbers are for the Philadelphia Department of Public Health's COVID Containment division, specifically our contact tracing staff, and NOT the CDC. When someone tests positive for COVID, our contact tracers will reach out and try to connect them with services or supports if they need it. The Philadelphia Dept of Public Health does not provide those services, neither cleaning nor groceries.
The information in this meme is false. These phone numbers will not put a person in touch with the CDC or help them sign up for any delivery of groceries or cleaning supplies. These phone numbers are not for public service phone lines but are voicemail lines for the contact tracing staff at the Philadelphia Department of Public Health.
There is nothing on the CDC website indicating the federal agency has a free food fund. The website does include a page of advice on how to get help with food from other agencies.