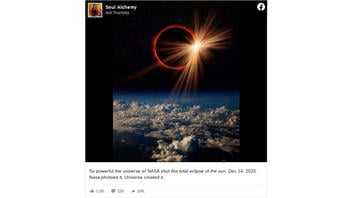 Was this photo of a total solar eclipse taken by NASA on December 14, 2020? No, that's not true: While there was a total solar eclipse on December 14, 2020, which cast a shadow on a narrow band of the southern end of South America, visible in Chile and Argentina, this image has nothing to do with it. This image is a fantasy composite of two disparate images and depicts a scene that could never occur in nature, even if observed from a space station above the Earth.
The image reappeared in a post (archived here) published by Soul Alchemy on December 17, 2020, with the caption:
So powerful the universe is! NASA shot this total eclipse of the sun. Dec 14, 2020. Nasa photoed it, Universe created it.
This is what the post looked like on Facebook at the time of writing:
(Source: Facebook screenshot taken on Wed Dec 23 18:16:10 2020 UTC)
This image, and several variations of it, have been circulating online since at least 2014 as revealed with a reverse image search on Tineye.com. Many versions are hosted on stock photo websites.
A pattern is developing: whenever, and wherever a solar eclipse is visible, this hoax photo will resurface on social media. There was a total solar eclipse on August 21, 2017, which was visible in a path from coast to coast in the United States. This phony photo went viral back then and was the subject of debunking at the time. On August 24, 2017, smhoaxslayer.com published, "This beautiful photo is not from Latest Solar Eclipse!"
There was another solar eclipse on June 21, 2020, which was visible across parts of Africa and Asia. Once again this phony photo was presented to a geographically distinct audience and was debunked, this time on June 24, 2020, by a fact-checker from Bangladesh, Boomlive.in, "No, This Is Not A Picture Of A Solar Eclipse Clicked By A Pilot." That version included a passenger jet in the scene. Just the upper portion of this image was debunked on June 29, 2020, by Logically.ai: "A British Airways pilot clicked a photo of a solar eclipse while crossing the Atlantic Ocean."

TinEye image search results reveal that the lower portion of this photo was not originally a dark "outer space photo" but a rather ordinary daytime picture looking down on a layer of lumpy stratocumulus clouds that might be viewed from a seat aboard a commercial jet. Many of the edited variations that include this background cloud scene feature airplanes. One digital artist, Muratart, has developed a large portfolio of sky fantasy images available on Shutterstock. Many of the eclipse images feature a light flare, an exaggerated illustration of a real phenomenon, explained here by NASA, "The Diamond Ring Effect."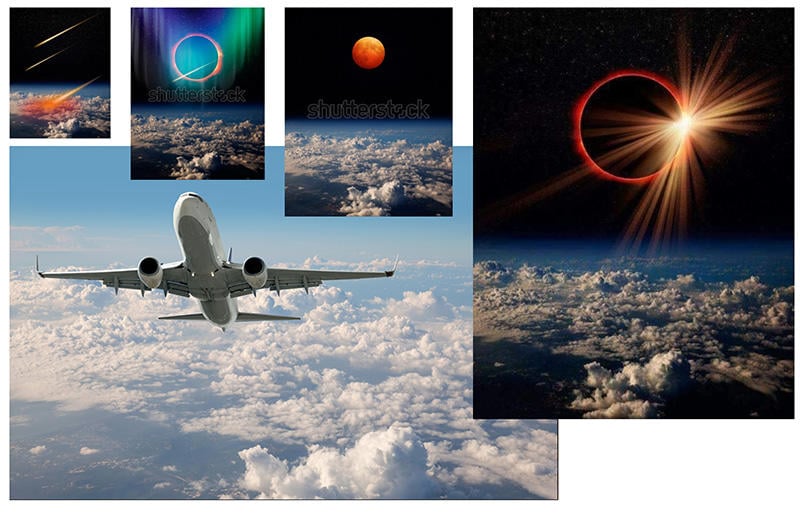 Aside from the history of this digital image manipulation, understanding of the dynamics of a total eclipse should reveal this artwork as a hoax, if anyone would ever try to pass it off as anything other than fantasy art. To view a total eclipse, the viewer would need to have the moon in line between themselves and the sun, and that would put the viewer in a deep shadow. The lighting on the clouds, coming from the left, is impossible if the sun is directly ahead, and eclipsed by the moon.
Timeanddate.com has a 3D animation that illustrates the shadow of the moon on the surface of the Earth as it turned during the December 14, 2020, eclipse, and NASA has a Tumblr Blog with some additional animations that illustrate the dynamics of light and shadow between the Earth, the moon and the sun.
The space station would not be able to photograph a total eclipse unless it happened to be in the proper alignment to pass through the umbra of the moon's shadow. The international space station orbits the earth 16 times a day and travels at a speed of 17,500 miles per hour, or 291 miles a minute. The path of totality for the recent eclipse in South America was only about 56 miles wide. For a person standing on Earth, they could experience the eclipse for about two minutes as the moon's shadow crossed over them, but for someone orbiting Earth aboard the international space station who just happened to fly into the right place at the right time, they would have only about 12 seconds to capture the scene before it was over.
This August 21, 2017 Time.com article, "This Is How the Solar Eclipse Looked From Space," has a video of the moon's shadow on Earth. Below is a 2019 image from NASA taken aboard the international space station.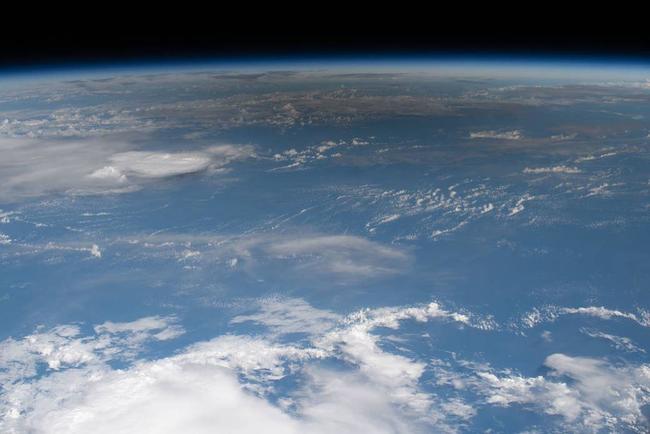 Image source: NASA: iss061e097976 (Dec. 26, 2019)
The shadow of the Moon is cast over portions of Malaysia and the Philippines during today's solar eclipse.
The International Space Station was orbiting 260 miles above the South China Sea at the time this photograph was taken.