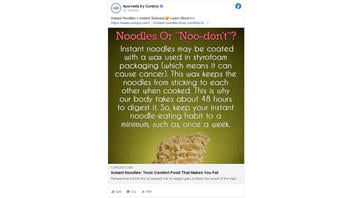 Are instant noodles coated with a wax used in Styrofoam packaging that could cause cancer? No, that's not true: Labels of popular brands of instant noodles don't show wax among the ingredients and makers of such products have refuted wax-coated noodle claims for years. Additionally, the Food and Drug Administration regulates food ingredients and packaging, aimed at ensuring a safe food supply. If wax-coated noodles could be sold in the United States, FDA regulations would address this.
The claim appeared in a Facebook post (archived here) published December 22, 2020, under the title "Noodles Or "Noo-don't"?" It opened:
Instant noodles may be coated with a wax used in styrofoam packaging ( which means it can cause cancer).
This is what the post looked like on Facebook at the time of writing:
(Source: Facebook screenshot taken on Wed Dec 23 22:37:37 2020 UTC)
The post continued:
This wax keeps the noodles from sticking to each other when cooked. This is why our body takes about 48 hours to digest it. So, keep your instant noodle-eating habit to a minimum, such as, once a week.
Lead Stories did a search of the massive online FDA regulations focused on wax-coated foods. While there are regulations permitting such foods as wax-coated fruits and vegetables, there don't appear to be any relating to wax-coated noodles.
Companies seeking to sell instant noodles to the United States Department Agriculture must meet 11 pages of requirements, including those governing ingredients. Waxed-coated noodles are not mentioned in the document.
Claims of wax-coated instant noodles have waxed and waned in frequency online for at least two decades. For example, a November 5, 2000, post from Snopes.com focuses on such a claim.
In 2020, the waxed-noodle claim seems to have again gained momentum. So have related claims that have been the subject of Lead Stories fact checks. They include: "NO Evidence That Instant Noodles Are Linked to Alzheimer's and Parkinson's", "Teenager Does NOT Die Of Stomach Cancer After Eating Instant Noodles Every Day" and "Doctors Do NOT Warn People To Avoid Instant Noodles Due To Cancer And Stroke Risks"
Lead Stories looked at the ingredients of popular instant noodle products for sale online. They didn't include wax as an ingredient. Two examples are below.
This is from the label for Maruchan Ramen Noodle Soup, soy sauce flavor, sold on Amazon.com:
Ramen Noodle Ingredients: Enriched Wheat Flour (Wheat Flour, Niacin, Reduced Iron, Thiamine Mononitrate, Riboflavin, Folic Acid), Vegetable Oil (contains one or more of the following: Canola, Cottonseed, Palm) Preserved by TBHQ, contains less than 1% of: Salt, Soy Sauce (Water, Wheat, Soybeans, Salt), Potassium Carbonate, Sodium (Mono, Hexameta, and/or Tripoly) Phosphate, Sodium Carbonate, Turmeric.Soup Base Ingredients:Salt, contains less than 1% of: Monosodium Glutamate, Hydrolyzed Corn, Wheat and Soy Protein, Sugar, Dehydrated Vegetables (Garlic, Onion, Chive), Dehydrated Soy Sauce (Wheat, Soybeans, Salt), Caramel Color, Spices, Beef Extract, Yeast Extract, Maltodextrin, Vegetable Oil (Palm), Disodium Inosinate, Disodium Guanylate, Natural Flavor, Lactose.
This is from the label for Maggi Masala 2-Minute Noodles, Spicy Masala, sold on Walmart.com:
Maggi Masala Spicy Noodles contain: Noodles: Wheat Flour, Edible Vegetable Oil, Salt, Mineral (Calcium Carbonate), Guar Gum. Masala Tastemaker, Hydrolyzed Groundnut Protein, Mixed Spices 23.6% (Onion Powder, Coriander, Chili Powder, Turmeric, Garlic Powder, Cumin, Aniseed, Fenugreek, Ginger, Black Pepper, Clove, Nutmeg, Cardamom), Noodle Powder.
Over the years, the manufacturers of both products have responded to the claim that instant noodles are coated in wax.
This is a statement from Maruchan's website:
It is a misconception that instant noodles contain a plastic or coating. We hear this question occasionally as it has been an internet rumor for a long time. Please rest assured that there are no plastics or waxes used in the making of our instant noodle products. There are also no special coatings on the packaging or the containers, nor are the noodles coated for extended preservation or any other reason.
This is a statement from the website of Maggi, which is owned by Nestle:
Maggi noodles are not coated with wax. In fact, they do not contain wax in any form. This misleading information has been floating around on the internet for years. Many people have checked with us and with independent sources, to confirm that this is a hoax.