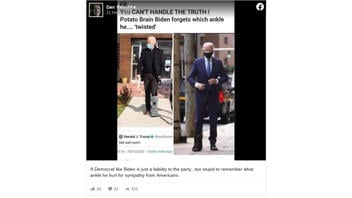 Did Joe Biden forget which ankle he twisted and put a walking boot on his left foot instead of his right? No, that's not true: The photo on which the claim is based has been edited to add a blue face mask and a walking boot on Joe Biden's Left foot. The photo is from November 17, 2018, the day the Bidens adopted their dog, Major. The photo on the right was taken on Tuesday December 1, 2020 and was the first time Joe Biden was seen in public after he injured his foot while playing with his dog Major a few days earlier.
The meme with the altered photo was posted (archived here) on Facebook on December 3, 2020, with the caption, "A Democrat like Biden is just a liability to the party...too stupid to remember what ankle he hurt for sympathy from Americans.". The text in the meme read:
FB.
You CAN'T HANDLE THE TRUTH!
Potato Brain Biden forgets which ankle he.... 'twisted'
This is what the post looked like on Facebook at the time of writing:
(Source: Facebook screenshot taken on Fri Dec 4 14:47:41 2020 UTC)
Joe Biden injured his foot on Saturday, November 28, 2020. The Associated Press reported, "Biden fractures foot while playing with dog, to wear a boot" on November 29, 2020.
President-elect Joe Biden fractured his right foot while playing with one of his dogs, an injury discovered in a scan Sunday and that will likely require him to wear a boot for several weeks, his doctor said.

Biden suffered the injury on Saturday and visited an orthopedist in Newark, Delaware, on Sunday afternoon, his office said.
On December 2, 2020, Lead Stories reached out to Biden's office and was directed to the statement made by Dr. Kevin O'Connor, the director of executive medicine at GW Medical Faculty Associates. Distributed on November 29, 2020:
Initial x-rays did not show any obvious fracture, but his clinical exam warranted more detailed imaging. Follow-up CT scan confirmed hairline (small) fractures of President-elect Biden's lateral and intermediate cuneiform bones, which are in the mid-foot. It is anticipated that he will likely require a walking boot for several weeks.
The first time President Elect- Joe Biden was seen in public after the visit to the orthopedist was on December 1, 2020 when he arrived at the Queen Theater in Wilmington Delaware, a home base for the Biden-Harris presidential campaign and now the location for the presidential transition team meetings. WHYY.org wrote about it back on October 25, 2020 "Wilmington's Queen Theater takes center stage in Biden campaign."
Lead Stories was unable to match images to determine the source of the photo on the right side of the meme, as there were many press photographers present and multiple angles of this scene in front of the theater appear on social media. The photo may be a still from a video. Joe Biden got out of the car, waved to the photographers, pointed to the boot on his right foot and buttoned his coat. This Bloomberg Quicktake Video captured the scene:
The photo from the left side of the meme has been edited. The edited version shows Joe Biden with a blue mask and a large grey walking boot on his left foot. It's an alteration of a photo taken November 17, 2018 and Joe Biden is wearing neither a mask nor a walking boot as he stands in from of a Delaware Humane Association adoption office. The Biden family adopted a young German Shepherd named Major from the Delaware Humane Association. A post on the Delaware Humane Association Facebook (here) shared this photo and the caption:
I'm officially adopted you guys! Off to Secret Service school!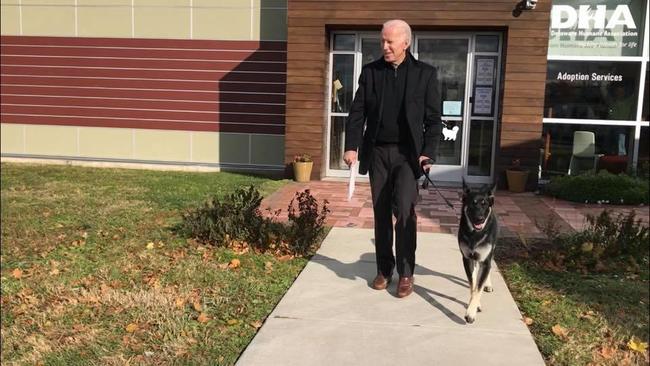 Source: Facebook Post, Delaware Humane Association
Lead Stories has written about this boot before: Fact Check: Biden Is Wearing A Walking Boot For A Fractured Foot, NOT A Criminal Defendant Ankle Monitor