STORY UPDATED: check for updates below.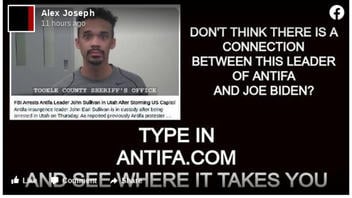 Is the redirection of the Antifa-dot-com internet domain to the White House website evidence of a connection between Antifa and President Joe Biden? No, that's not true: Anyone can register an unregistered domain name and redirect traffic to any other website. The registrant of Antifa-dot-com is secret and its redirection toward WhiteHouse.gov as of January 20, 2021 appears to be a prank. It was previously pointed toward Joe Biden's presidential campaign website in August 2020, which Lead Stories also concluded was a prank unconnected to the Biden campaign.
The claim that it is evidence of an Antifa-Biden connection appeared in a post (archived here) published on January 20, 2021 under the title "How is it a conspiracy theory? It is an absolute FACT that Antifa members were at the capitol building." It opened:
DON'T THINK THERE IS A CONNECTION BETWEEN THIS LEADER OF ANTIFA AND JOE BIDEN?

TYPE IN ANTIFACOM AND SEE WHERE IT TAKES YOU
This is what the post looked like on Facebook at the time of writing:
(Source: Facebook screenshot taken on Wed Jan 20 19:58:57 2021 UTC)
The post included a mugshot of John Sullivan, a 26-year-old Utah man who has been charged with illegally entering the U.S. Capitol building on January 6, 2021. The U.S. Justice Department issued a news release about Sullivan's arrest:
John Earle Sullivan was charged by complaint with one count of knowingly entering or remaining in any restricted building or grounds without lawful authority, one count of violent entry and disorderly conduct on Capitol grounds, and one count of interfering with law enforcement engaged in the lawful performance of their official duties incident to and during the commission of civil disorder. The defendant was arrested today in Utah.

The Complaint alleges that during the events at the U.S. Capitol, Sullivan, wearing a ballistics vest and gas mask, entered the U.S. Capitol through a window that had been broken out, pushing past U.S. Capitol Police once inside. The Complaint also alleges that Sullivan admits to filming and being depicted in video footage that shows him present, outside of the Speaker's Lobby within the U.S. Capitol, at the shooting of a woman by a U.S. Capitol Police officer.
Sullivan's connection to the Antifa movement is questionable. Leaders of anti-racism groups in Utah are on record distancing themselves from Sullivan and questioning his motives. But that is not the tqarget of this debunk. Lead Stories is examining if the fact that Antifa-dot-com is directed at the White House is evidence of a connection between Antifa and Biden. We concluded it is not.
As we explained in our previous debunk article titled Fact Check: An 'Antifa' Website Is NOT Affiliated With The Biden/Harris Campaign:
But the owner of antifa-dot-com -- or any domain, for that matter -- is free to redirect to any website desired, whether that be on a temporary or permanent basis.

It is not clear who owns antifa-dot-com, but there is no sign that it's an official site for the movement. That's because a "unifying body for antifa" does not exist, according to the Anti-Defamation League. Rather, the "violent counter-protesters" who "are often part of 'antifa' (short for 'antifascist')" are "a loose collection of groups, networks and individuals who believe in active, aggressive opposition to far right-wing movements."

The domain name of antifa-dot-com was first created on April 24, 2002, and the registration last updated on October 23, 2019, according to Whois and Whoisology. The web address is currently registered via a company in Panama that allows anyone to register a domain name without revealing their identity, making it easy to hide what individuals or groups are behind a website.

Some news reports have suggested the domain had previous ties to Russia. Yahoo News ran a story on August 12, 2020, titled, "'Antifa' website cited in conservative media attack on Biden is linked to -- wait for it -- Russia." The International Business Times weighed in the next day with a story titled, "Joe Biden Affiliated With Antifa? Bogus Web Link Potentially Connected To Russia."

There is zero indication that the Biden/Harris campaign has had anything to do with this website redirect.
(Editor's Note: Lead Stories used "antifa-dot-com" throughout this fact-check to get around web filters that were preventing us from using normal ".com" wording in describing the URL. Below is a screenshot of the error notice that forced this work-around.)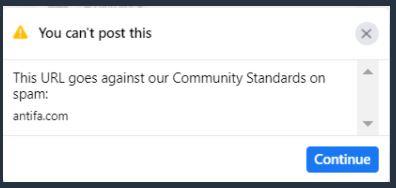 2021-01-20T22:38:54Z

2021-01-20T22:38:54Z

Updated to add editor's note re: use of "-dot-com" instead of the usual url description.