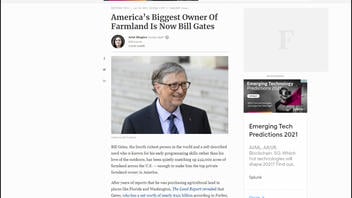 Is Bill Gates now America's biggest owner of farmland in the United States? Yes, that's true: Gates owns 242,000 acres of farmland, according to a forbes.com article, which referenced a landreport.com article. Total farmland in the U.S. totaled 897,400,000 in 2019, the latest available number, according to a 2020 United States Department of Agriculture report. That means Gates owns about 0.027% of all of the farmland in the U.S.
The claim appeared in an article published by Forbes on forbes.com January 14, 2021, titled "America's Biggest Owner Of Farmland Is Now Bill Gates" (archived here) which opened:
The Microsoft billionaire has been quietly building a 242,000-acre portfolio of agricultural land across 18 states.
Users on social media only saw this title, description and thumbnail:
The Microsoft billionaire has been quietly building a 242,000-acre portfolio of agricultural land across 18 states.
The Forbes article cites a January 11, 2021, article by The Land Report as the source of its information regarding Gates' land ownership. The article offers some background on how Gates came to acquire substantial amounts of farmland.
Actually, when it comes to the extensive farmland portfolio of Bill and Melinda Gates, the question should be, "Ever hear of Michael Larson?" For the last 25 years, the Claremont McKenna College alum has managed the Gateses' personal portfolio as well as the considerable holdings of the Bill & Melinda Gates Foundation. (Although our researchers identified dozens of different entities that own the Gateses' assets, Larson himself operates primarily through an entity called Cascade Investment LLC.)

In 1994, the Gateses hired the former Putnam Investments bond-fund manager to diversify the couple's portfolio away from the Microsoft co-founder's 45 percent stake in the technology giant while maintaining comparable or better returns. According to a 2014 profile of Larson in the Wall Street Journal, these investments include a substantial stake in AutoNation, hospitality interests such as the Charles Hotel in Cambridge and the Four Seasons in San Francisco, and "at least 100,000 acres of farmland in California, Illinois, Iowa, Louisiana, and other states ... ." According to the Land Report 100 Research Team, that figure is currently more than twice that amount, which means Bill Gates, co-founder of Microsoft, has an alter ego: Farmer Bill, the guy who owns more farmland than anyone else in America.
NewsGuard, a company that uses trained journalist to rank the reliability of websites, describes forbes.com as:
The website of the American business magazine Forbes, which is known for its lists of the world's richest people. Forbes.com links to 25 international editions from its English-language homepage.
According to NewsGuard the site can generally be trusted to maintain journalistic standards. Read their full assessment here.