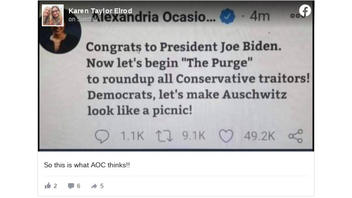 Did Rep. Alexandria Ocasio-Cortez post a congratulatory tweet to President-elect Joe Biden, calling on him to begin a "Purge," rounding up "all conservative traitors" and making "Auschwitz look like a picnic"? No, that's not true: It's a fake. No such tweet appears in the archives of the New York Democrat's personal Twitter account nor of the official account maintained by her congressional staff. There is also no record of the tweet on Politwoops, a website that tracks and archives public officials' deleted tweets.
The claim appeared in an image posted (archived here) on Facebook on January 10, 2021 under the title "So this is what AOC thinks!!". It opened:
Congrats to President Joe Biden. Now let's begin "The Purge" to roundup all Conservative traitors! Democrats, let's make Auschwitz look like a picnic!
This is what the post looked like on Facebook at the time of writing:
(Source: Facebook screenshot taken on Fri Jan 15 18:55:17 2021 UTC)
The screenshot of the tweet includes the same photo Rep. Ocasio-Cortez uses on her own account and features a fake of the blue check mark that signifies Twitter has verified the account belongs to a famous person in whose name fraudsters and satirists are prone to create fake accounts. But it displays the author as "Alexandria Ocasio...", rather than her full name. The tweet purports to have been retweeted 9,100 times, with 49,200 likes. It's unclear exactly what date the tweet would have been published, as it simply says "4m," without a specific day.
"The Purge" is likely a reference to an American media franchise centering on stories based on the idea of a dystopic time in which for a 12-hour period every year, all crime is legal.
Lead Stories conducted an advanced search through Twitter of Rep. Ocasio-Cortez's tweets from the account, @AOC, and found no posts from her account about rounding up conservative traitors and making Auschwitz look like a picnic.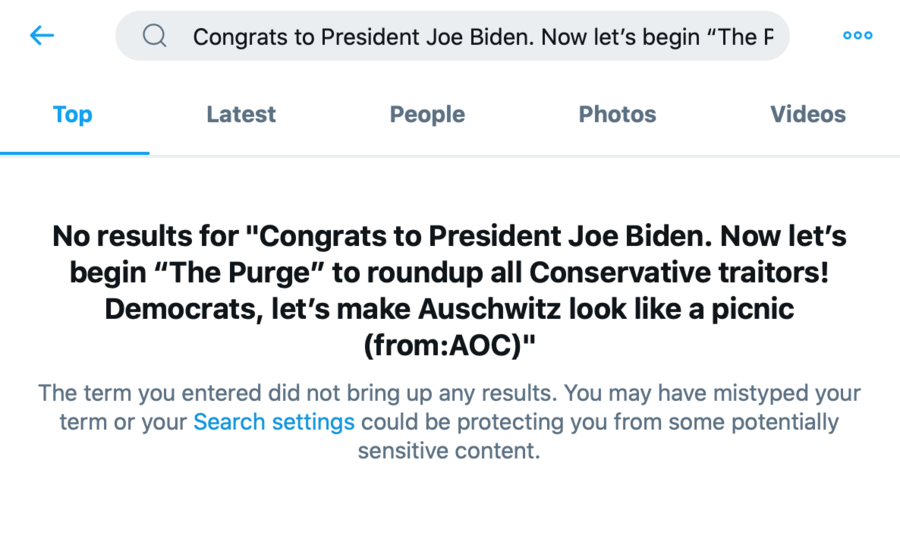 Lead Stories also conducted a search of @RepAOC, a twitter account that is described as "maintained by federal staff to share services and legislation relevant to constituents of NY-14" and similarly found no sign of the tweet.
There was also no record of the tweet on ProPublica's website Politwoops, which tracks deleted tweets by public officials.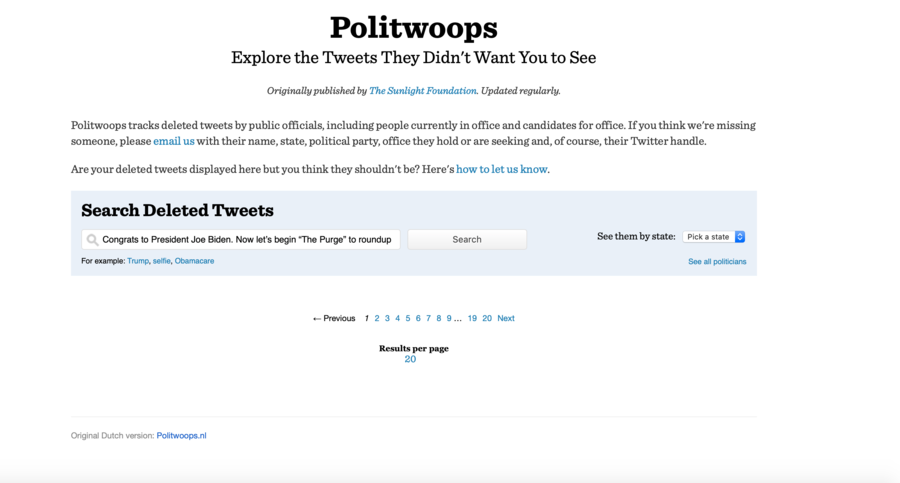 On November 7, 2020, Rep. Ocasio-Cortez did tweet a congratulatory message from her @AOC account to President-elect Joe Biden that simply said:
Congratulations to President-elect Joe Biden & Vice President-elect Kamala Harris!
A Google search for the wording of the purported "purge" tweet found no substantiating evidence that Rep. Ocasio-Cortez had ever posted words to that effect.
Lead Stories sent a message to Rep. Ocasio-Cortez and a communications representative for the U.S. House on January 15, 2021, with questions about the validity of this tweet, but did not hear back. We will update, if appropriate, when we receive a response.
Reuters, PolitiFact and Snopes previously debunked this claim.