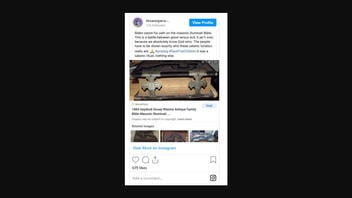 Did Joe Biden swear his presidential oath on the "Masonic Illuminati Bible"? No, that's not true: Biden's hand was on a family Bible that had been in his family for 128 years when he took the presidential oath of office at the U.S. Capitol on January 20, 2021.
The claim appeared as a post (archived here) where it was published on Instagram on January 21, 2021. It read:
Biden swore his oath on the Masonic illuminati Bible. This is a battle between good versus evil, it ain't over, because we absolutely know God wins. The people have to be shown exactly who the satanic lunatics really are. #Praybig #savethechildren It was a Satanic ritual, nothing else."
Social media users saw this post:
The meme featured an image of a Bible that looked similar with the caption, "1884 Haydock Douay Rhelms Antique Family Bible Masonic Illuminati."
Biden's 5-inch thick Bible has a Celtic cross on the cover. It has been in his family since 1893. He used it when he was first sworn in to the Senate in 1973 and when he was sworn in as vice president in 2009 and 2013. Here he is using it on January 20, 2021: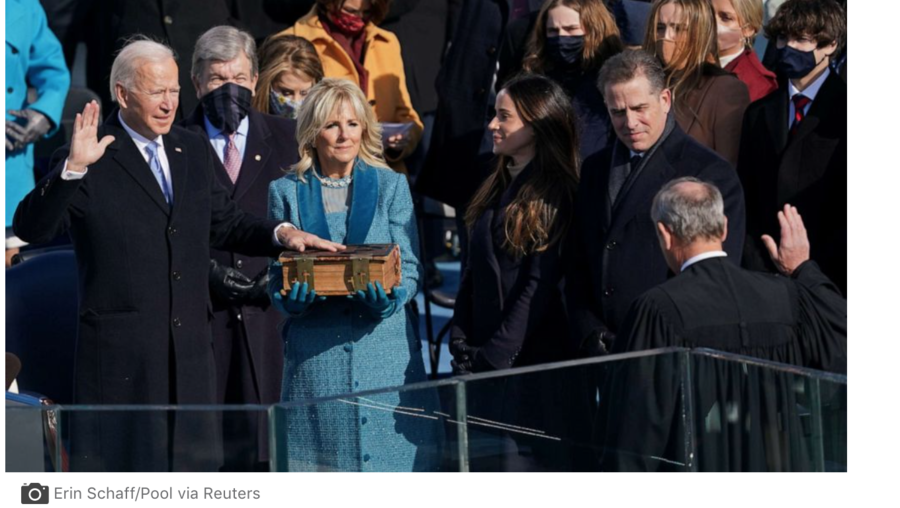 Biden told late night talk show host Stephen Colbert about the Bible.
It's just been a family heirloom on the Biden side of the family, and every important date is in there. For example, every time I've been sworn in for anything, the date has been on that and is inscribed on the Bible.
His son, Beau Biden, also used it when he was sworn in as Delaware Attorney General in 2007, the New York Times reported.

The image of the "1884 Haydock Douay Rhelms Antique Family Bible Masonic Illuminati," appears to be a post on a third-party auction house website Worthpoint.com. There is no proof that it is a Masonic Illuminati Bible, just the description on the website.