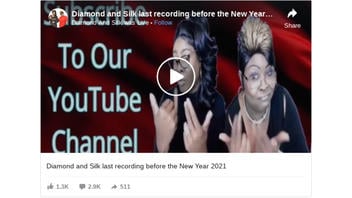 Does Joe Biden have a plan to make COVID-19 vaccinations mandatory for Americans? No, that's not true: President-elect Biden has repeatedly said that he would not propose making COVID-19 vaccinations mandatory. "I don't think it should be mandatory. I wouldn't demand it to be mandatory," Biden said at a news conference in Wilmington, Delaware on December 3, 2020. There is no record of Biden making any contrary statements.
The claim appeared in a video (archived here) posted on Facebook by Diamond & Silk by on December 31, 2020 under the title "Diamond and Silk last recording before the New Year 2021". Two and a half minutes into the live idea Diamond said:
As we were about to come on I see Jim Crow Joe Biden giving a speech about Covid-19 and it sounds like to me that he is trying to make these vaccines mandatory, he's trying to mandate them.
This is what the post looked like on Facebook at the time of writing:
(Source: Facebook screenshot taken on Fri Jan 1 03:56:10 2021 UTC)
Lynnette Hardaway, who is known as Diamond in the sister duo, was apparently referring to Biden's on ABC's "Dick Clark's New Year's Rockin' Eve With Ryan Seacrest." Biden did say the pace of vaccinations needs to be increased but he not say anything about making vaccinations mandatory.
A minute later -- at the three and a half minute mark -- Diamond noted that
President Trump was not pushing for mandatory vaccinations:
But Biden, he wants to make it mandatory that you get a vaccine. They want a mandatory, they want to vaccinate a million people a day.
Biden never called for a national vaccination mandate or a mask mandate. In fact, when asked about it at a news conference on December 3, 2020, Biden said he would use persuasion, not a law, to get Americans vaccinated:
I don't think it should be mandatory. I wouldn't demand it to be mandatory. Just like I don't think masks have to be made mandatory nationwide. I'll do everything in my power as president of the United States to encourage people to do the right thing and when they do it, demonstrate that it matters.
Rochelle Richardson, who is known as Silk, followed her sister at the five and a half minute mark to attack the fictional Biden plan to force vaccinations:
He sounds like a drug dealer. I don't want them drugs up in my arm or in my body.
Two minutes later, Silk said:
I control what goes inside of my body. The government do not have the right to take and mandate something go inside of my body that I don't choose to go inside.
She later speculated that the "next thing" Biden's administration would do it it make it illegal for a citizen to go into a store without paperwork proving they have been vaccinated. She likened it to the pass slaves were required to carry to go from one plantation to another. There is no support for the claim that shoppers will someday be required to verify they've been vaccinated.
Here is the full Biden interview on New Year's Eve.
Here is the last interview for President-Elect @JoeBiden and future First Lady @DrBiden in 2020! 🇺🇸 #RockinEve pic.twitter.com/wcSnlbL8pM

-- New Year's Rockin' Eve (@NYRE) January 1, 2021