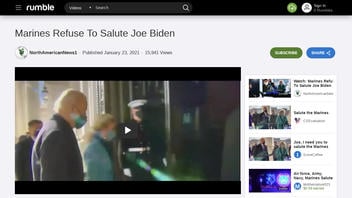 Does this video show Marines who "refuse" to salute Joe Biden on Inauguration Day? No, that's not true: While the Marines who were standing on either side of the entrance to the Capitol building, holding the doors open, did not render a salute as then-President-elect Joe Biden and his wife Jill approached and entered, this should not be characterized as a "refusal" to salute. At that moment, Joe Biden was not yet sworn in as president. The Marines were performing their duty exactly as protocols require.
The claim came from an Infowars "War Room with Owen Shroyer" clip that was rehosted on many platforms, such as this video clip on Rumble (archived here) where it was published by NorthAmericanNews1 on January 23, 2021, with the title, "Marines Refuse To Salute Joe Biden." It opened with Owen Shroyer saying:
Notice the Marines don't salute him!
How did we miss this, guys?
Notice the Marines do not salute Biden.
How did we miss that?
This is how the post appeared at the time of this writing:
(source: Rumble screenshot 1/25/21 11:23 EST)
Lead Stories reached out to the Marine Corps media office for information about the saluting protocol and they explained that Marines always salute the president of the United States, but since Biden was not officially sworn in at this point, it would not be required.
The Marine Corps Drill and Ceremonies manual states:
The purpose of the hand salute is to demonstrate mutual respect and courtesy between members of military organizations and to show respect to national colors.
Lead Stories recently debunked another claim that appears at the start of this video clip, that Joe Biden was wearing an earpiece, repeated the words, "Salute the Marines," and then forgot to salute. That was not the case.
Some of the editions of this recycled InfoWars clip uploaded elsewhere, have a thumbnail image of National Guard members. This image originated from a video shot by a reporter riding in a press pool van that was part of the Inauguration Day motorcade. Below is an example of that misleading thumbnail image added with this clip hosted on BitChute (archived here). Lead Stories also debunked the claims that had been associated with that video, that the National Guard members had "turned their backs" on Biden's motorcade. The Guard members were positioned facing in alternating directions to protect against potential threats.
(source:BitChute screenshot 1/25/21 12:15 PM EST)