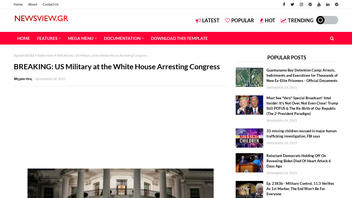 Was the U.S. military at the White House arresting Congress on January 25, 2021? No, that's not true: There's zero proof substantiating such a statement. A video offered as evidence does not show arrests; it's unclear when it was even shot. Furthermore, members of Congress have given live broadcast interviews and appeared in public in the days since their supposed detentions.
The claim appeared in an article (archived here) published by newsview.gr on January 28, 2021. The post, titled "BREAKING: US Military at the White House Arresting Congress," opened:
Special Operations (SOF) units including 4,000 deputized National Guard soldiers acting as US Marshalls, have served indictments on, or were about to arrest 67% of Congress. Early Mon. morning 25 Jan. between 3 and 6 am Military vans, buses and police cars, along with a multitude of police and Military troops, were very busy at a blacked out White House.
Users on social media saw this title, description and thumbnail:
The claim alleges close to 70% of Congress was indicted or about to be arrested on January 25, 2021. Obviously, that didn't happen. As can be seen here, here, here and here, members of Congress have given interviews and appeared in public in the days since their supposed detentions and there have been no major public announcements. The idea that so many lawmakers' arrests could be kept under wrap for days is improbable to the point of impossible.
As purported proof for its claim, the post (which misspells law-enforcement marshals as "marshalls") included a YouTube video of an allegedly blacked out White House. The video shows shots of the White House, while a voice remarks on the presence of cop cars, buses and police. The voice says: "I just watched everybody in the White House get arrested." The video ends with shots of fireworks.
The video does not prove anything. For starters, it was published to YouTube January 24, 2021, one day before the arrests were alleged to have taken place. The shot of the White House is so far away, you can hardly tell what's happening. You certainly can't see any arrests. In fact, there's no evidence that the video was even shot when the post implies it was -- early on the morning of January 25, 2021. A much likelier explanation, given the presence of security and fireworks, would be that the video captured the night of Joe Biden's inauguration, which was capped with a massive fireworks display.
The post appeared to copy a post published on January 27, 2021, by Before It's News. That post's author was Judy Byington, whose claims Lead Stories has debunked in the past. See those stories here.
NewsGuard, a company that uses trained journalist to rank the reliability of websites, describes beforeitsnews.com as:
A website that hosts user-submitted content and regularly publishes false information and conspiracy theories.
According to NewsGuard the site does not maintain basic standards of accuracy and accountability. Read their full assessment here.