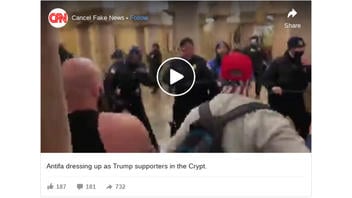 Were the protesters who committed violence in the U.S. Capitol on January 6, 2021, really antifa activists dressing up as Trump supporters? No, that's not true: There is no publicly available evidence that the people who stormed the United States Capitol in Washington, D.C. were antifa activists. National media outlets identified protesters as QAnon and Trump supporters after claims surfaced that they were antifa. Lead Stories debunked the claim that a man wearing horns with a large chest tattoo was antifa -- he is a QAnon and pro-Trump supporter, in his own words. At the time of writing, no photographic, documentary or credible eyewitness testimony had surfaced. One self-described "paid actor" for instance, turned out to be pranking social media users and now says he is "anti-fart" and wasn't there.
The claim appeared as a video (archived here) where it was published by Cancel Fake News on Facebook on January 6, 2021, under the title "Antifa dressing up as Trump supporters in the Crypt."
This is what the post looked like on Facebook at the time of writing:
(Source: Facebook screenshot taken on Thu Jan 7 19:13:48 2021 UTC)
The 11-second video clip shows protesters fighting with law enforcement officers on the ground floor of the Capitol building, in the rotunda referred to as the "the crypt."
The Facebook page that posted the video with the headline "Antifa dressing up as Trump supporters in the Crypt," describes itself as:
Cancel Fake News exposes the corporate media for being totally fake and phony. We also dig through leftwing propaganda for real news. Our page is run by War Room operatives that believe in the America First agenda.
There is no evidence provided that those shown in the video were antifa activists. Antifa is a term used to describe a wide variety of both loosely affiliated and independent antifascist organizations whose anti-racist and anti-fascist credos date back to the resistance to the 1920s rise of Italian fascism under Benito Mussolini and the 1930s rise of Nazism in Germany under Adolph Hitler.
As Lead Stories reported shortly after pro-Trump demonstrators stormed the Capitol, the man shown in multiple photos wearing a Viking-style helmet and a fur coat, with a tattoo on his chest, is a well-known QAnon supporter who has been identified as Jake Angeli. Nicknamed "QAnon Shaman" for his face paint, bare chest, and tattoos, Angeli has given interviews to the press about his support of President Trump.
He is not an antifascist activist and he told an Arizona Central reporter in May 2020 that he was a Trump supporter.
I'm seeing false tweets that Jake Angeli (aka "QAnon Shaman") who was part of the group that stormed the Capitol and made it into the chamber, is Antifa.

He is very much a @realDonaldTrump and QAnon supporter, per my interview with him last year 👇@azcentral https://t.co/S8luSxeHiO

-- BrieAnna J. Frank 🌵 (@brieannafrank) January 6, 2021

National news outlets reported on the protesters that stormed the Capitol as being Trump supporters and QAnon activists, not antifa activists.
Yahoo News published an article on January 7, 2021 titled, "QAnon supporters believed marching on the Capitol could trigger 'The Storm,' an event where they hope Trump's foes will be punished in mass executions," where they noted:
A QAnon influencer known as the "Q Shaman" played a prominent role in the unrest, and was pictured in his trademark horned helmet seated in the Senate chamber after rioters broke in."