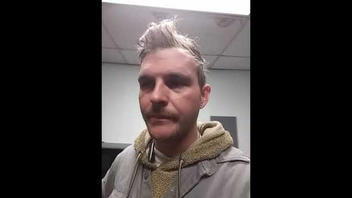 Did an antifa member post a video confessing that he was paid to protest at the U.S. Capitol on January 6, 2021? No, that's not true: The man in the video making the claim posted another video admitting that it was a joke and that his "Antifa" means "anti-fart," because they are "smelly."
The claim originated in a video posted on YouTube on January 7, 2021 titled "I WAS ANTIFA, PAID TO PROTEST CAPITAL BUILDING" (archived here). The man said:
Look, I just left the protest at the Capitol building and I've got a big bruise on my leg. I had a difficult time pulling off the act that I was paid to do and I'm making this video because I want to confess that I was paid to pretend to protest today. I can't say by who, but I will just say that it's a organized effort.
Click below to watch the video on YouTube:
The video's description including this text:
EXPLANATION VIDEO RIGHT HERE:
https://youtu.be/kN-lWKWOmDQ
That links to another video in which the man explains that the first video was a joke:
(Singing) I didn't mean to cause no confusion, so let me explain myself. (Talking) You guys are so mad at me. You are so mad. And you're, yeah, you're silly billies if you think you're not mad and you're gonna laugh, you're gonna laugh, because this is one misunderstanding that I can just tell you, right now, okay all right. The video that I posted about antifa, so this is what happened. It's so silly. I am antifa, but it's not what you think. I am the owner, founder and sole proprietor of anti-farting organization. I have reason to believe that toots and farts, coming out of your rectum or your butthole are smelly.
After a bad penis joke, he closed the second video saying:
That's cleared up. No, please don't murder my neighbors and rape my cats and don't
investigate me any further, thank you.
Lead Stories has debunked previous claims that it was antifa -- and not Trump supporters -- that rioted and invaded the U.S. Capitol on January 6, 2020, including one that a man photographed storming the U.S. Capitol in fur and horns was an antifa activist working to make supporters of President Donald Trump look bad.