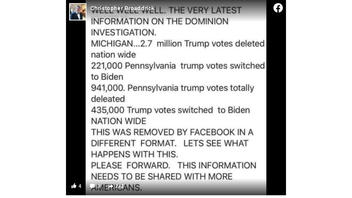 Were votes for Donald Trump deleted and switched to his opponent, Joe Biden? No, that's not true: There's zero evidence to support the claim. Dominion Voting Systems, independent experts and election officials have all, repeatedly, defended the integrity of the 2020 election, which has been described as the "most secure in American history."
The claim appeared in a Facebook post (archived here) published on January 4, 2021. It opened:
WELL WELL WELL. THE VERY LATEST INFORMATION ON THE DOMINION INVESTIGATION. MICHIGAN...2.7 million Trump votes deleted nation wide. 221,000 Pennsylvania trump votes switched to Biden 941,000. Pennsylvania trump votes totally deleated 435,000 Trump votes switched to Biden NATION WIDE
This is what the post looked like at the time of writing:
(Source: Facebook screenshot taken on Wed Jan 13 16:04:09 2021 UTC)
Contrary to what the post alleges, it presents no new information. Lead Stories debunked the same claims in November 2020. Back then, Trump re-tweeted the allegations. He has since been banned from the social media platform for spreading falsehoods about the election.
There is no evidence to support the claim that votes were deleted and switched and the use of auditable paper ballots has conclusively proven in several states there was no digital chicanery. Dominion, which provides election technology in 28 states, has repeatedly dismissed such allegations, as have independent experts and election officials at the state and federal levels. Dominion is now suing news organizations and individuals who made the false claims.
Michigan's director of elections has declared under oath that digital voting equipment could not be used to switch votes in the way that multiple conspiracy theorists say it has been.
As recently as January 6, 2021, Pennsylvania Secretary of State Kathy Boockvar told reporters that the state "held a fair, free, secure and accessible election for eligible Pennsylvanians." You can watch a clip from her press conference here:
Today, Governor Wolf, Secretary Boockvar and Philadelphia Commissioner Al Schmidt emphasized that PA had a free, fair and secure election. Thanks to the election officials and poll workers, all PA voters were able to exercise their right to vote in Nov: https://t.co/iRVNCv1wjy pic.twitter.com/fwUnA9t7pa

-- PA Department of State (@PAStateDept) January 6, 2021
Meanwhile, Dominion has stressed that all its systems rely on paper records and are "100% auditable." When tested through audits in Michigan and hand recounts in Georgia, the accuracy of its vote-counting machines has been confirmed. Here's Dominion:
All 2020 election audits and recounts using Dominion technology have validated the accuracy and reliability of results, confirming the integrity of election outcomes.
The integrity of the election has also been upheld by independent experts like Edward Perez, an election technology and security expert at the Open Source Election Technology (OSET) Institute. In a November 12, 2020, phone interview, he told Lead Stories that his 17 years in election technology and election administration give him confidence that his review of the 2020 presidential election is correct: vote theft of this scale is not possible, given the multiple cross-checks election clerks, administrators and poll-watchers apply to vote tallies.
Finally, the U.S. Cybersecurity & Infrastructure Security Agency (CISA) has described the 2020 election as the "most secure in American history." You can read its full statement here.