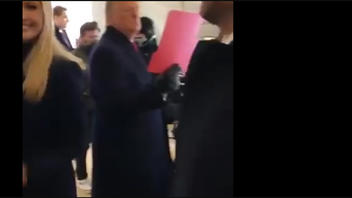 Does this video show the Trump family and others having a party while watching television coverage of the assault on the U.S. Capitol building? No, that's not true: This video, posted on the account of Donald Trump Jr., shows the scene inside the backstage tent in the moments before Donald Trump went on stage to speak to supporters gathered at the Ellipse in Washington, D.C., for the "Save America" rally on Jan. 6, 2021. President Trump's speech lasted about 70 minutes, wrapping up around 1 p.m. on Jan. 6. The assault on the Capitol did not begin until after 1 p.m. that day.
This video was originally posted to Facebook by Donald Trump Jr. on January, 6, 2021 (archived here). That original copy of the video has been removed from Donald Trump Jr.'s account. This copy of the video (archived here) was published by "Fire Trump 2020" on January 7, 2021, with this caption:
While the assault was taking place they were allegedly enjoying the assault on the capital.
The copy of the video posted by Donald Trump Jr. had a caption included in the video which read:
A little backstage family time with POTUS before his speech

Guys, here's a little backstage footage...
(source:screenshot archive.is 1/11/21 2:00 PM EST)
Along with some comments introducing various people and joking around with them, Eric Trump Jr. says a few things during the video that indicated the speech was about to start:
I think we are T-minus a couple of seconds here guys.
So check it out, tune in, going to livestream it ...

All right we are going to go get this show on the road.
Thank you guys, just really appreciate all the love and support. It's pretty amazing ...

All right guys, we are going to go get this show on the road, tune in it's going to be streaming live everywhere else though, check it out.

Time to get back to work, love you guys!
Near the end of the video, President Donald Trump picks up a red folder that had been laying on the table. The images on the monitors show the stage and the waiting crowd.
Following is a C-SPAN image of the stage from C-SPAN's broadcast of the rally, compared with the Donald Trump Jr. video's image on the monitors showing several views of the crowd. At approximately the 3 hour, 28 minute mark in the C-SPAN Video, the Laura Branigan song "Gloria," which could be heard during the backstage video, begins to wind down. President Trump is introduced and at 3:28:56 into the video he takes the stage. President Trump's rally speech of January 6, 2021, began at about 11:50 a.m. local time in Washington.
(source: screenshots C-SPAN video and Donald Trump Jr. Video)
On January 8, 2021, usatoday.com published, "Timeline: How a Trump mob stormed the US Capitol, forcing Washington into lockdown." From that timeline:
11 a.m.
Trump's "Save America Rally" begins first with the president's sons Eric and Donald Trump Jr., then his lawyer, Rudy Giuliani. Trump starts speaking shortly before noon at about 11:50 a.m. and says, "And after this, we're going to walk down there, and I'll be there with you, we're going to walk down ... to the Capitol and we are going to cheer on our brave senators and congressmen and women." Trump speaks for more than an hour. At the conclusion, thousands walk to the Capitol.

1 p.m.
Lawmakers gather for a joint session in the House of Representatives chamber to count Electoral College votes.

1:10 p.m.
Rioters begin grappling with police on the Capitol steps.
In his speech President Trump had promised his supporters that he would accompany them to the Capitol:
After this, we're going to walk down and I'll be there with you. We're going to walk down. We're going to walk down any one you want, but I think right here. We're going to walk down to the Capitol, and we're going to cheer on our brave senators, and congressmen and women. We're probably not going to be cheering so much for some of them because you'll never take back our country with weakness. You have to show strength, and you have to be strong.
President Donald Trump did not walk to the Capitol with the crowd. A New York Times report says that he spent the afternoon in the Oval Office with the White House chief of staff, Mark Meadows, and the White House counsel Pat A. Cipollone.
Later in the afternoon President Trump tweeted:
Please support our Capitol Police and Law Enforcement. They are truly on the side of our Country. Stay peaceful!
This was retweeted by Ivanka Trump with the message:

American Patriots - any security breach or disrespect to our law enforcement is unacceptable. The violence must stop immediately. Please be peaceful.
When someone asked her, "Clarifying, @IvankaTrump, you're saying these people are "patriots" ??" Ivanka Trump changed her message and deleted the previous tweet:
No. Peaceful protest is patriotic. Violence is unacceptable and must be condemned in the strongest terms.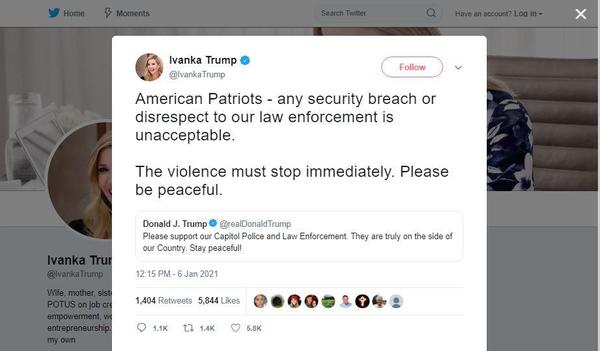 (Source: Screenshot of archive.is copy of now deleted 1/6/21 tweets from President Trump and Ivanka Trump)
At 3:36 p.m. White House Press Secretary Kayleigh McEnany posted a tweet saying that President Trump had directed the National Guard to come:
At President @realDonaldTrump's direction, the National Guard is on the way along with other federal protective services.

We reiterate President Trump's call against violence and to remain peaceful.

-- Kayleigh McEnany (@PressSec) January 6, 2021
The White House press secretary's tweet does not exactly match the U.S. Department of Defense press release from acting defense secretary Christopher C. Miller:
Chairman Milley and I just spoke separately with the Vice President and with Speaker Pelosi, Leader McConnell, Senator Schumer and Representative Hoyer about the situation at the U.S. Capitol. We have fully activated the D.C. National Guard to assist federal and local law enforcement as they work to peacefully address the situation. We are prepared to provide additional support as necessary and appropriate as requested by local authorities. Our people are sworn to defend the constitution and our democratic form of government and they will act accordingly.