STORY UPDATED: check for updates below.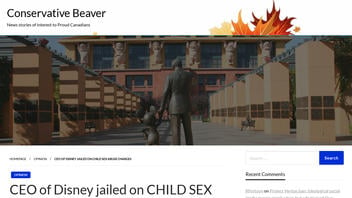 Was Bob Chapek, the CEO of Disney, arrested on child sex abuse, bestiality and child pornography charges? No, that's not true: There is no evidence that this story is anything but fabricated click-bait. The "Conservative Beaver" is well-known as a fake news publisher, and there is no evidence of this arrest ever happening. The sergeant listed as a source is no longer with the Burbank Police and the agency says there has been no such arrest.
The claim originated in an article published by Conservative Beaver on February 12, 2021, titled "CEO of Disney jailed on CHILD SEX ABUSE charges" (archived here), which opened:
Alleged offences include sexual assault and distributing child pornography
Bob Chapek, the CEO of Disney, appeared in Federal court early today, charged with ten counts of sexual abuse against two children.

The allegations include bestiality and making extremely sadistic child pornography.

The charges stem from alleged incidents of abuse that took place at Bob Chapek's residence in Burbank. The charges relate to allegations that he touched two young girls over their clothing, invited them to touch his penis and exposed his genitals to them.

"What we do know is that he has been charged with several offences in relation to sexual assault against two children... He was arrested yesterday, January 11. The allegations include bestiality, making child pornography and distributing it over social media."

Sgt. Matthew Ferguson, Burbank Police Service

The intent of the charges is to provide protection and support for the victims, said police in a press release.

This arrest comes as no surprise to many critics, who say Disney has been working hand in hand with pedophiles for years.
Users on social media only saw this title, description and thumbnail:
There is no publicly available record of the arrest described in this article. Burbank Police Department Sgt. Emil Brimway, in a February 16, 2021 email in response to Lead Stories inquiries, wrote the following:
...The Burbank Police Department has not arrested "Bob Chapek" for any crime. Additionally, Sergeant Matthew Ferguson is no longer employed by the City of Burbank or Burbank Police Department, as he retired several years ago at the rank of Lieutenant.
Lead Stories has reached out by email to the Walt Disney Company and we will update, if appropriate, when they respond.
The article finishes with a statement that appears to offer an explanation: That the Conservative Beaver can report on this story because it is based in Montreal while due to a gag order no news outlets in the U.S. are allowed to report on it. This does not explain why, other than the Conservative Beaver, Canadian news outlets are not running with the story.
The arrest is subject to a gag order. This means no media in the US can report on this. Conservative Beaver is based in Montreal, and can report on this freely.
The clickbait article finishes with a final false claim of search engine suppression as an additional reason for the audience to share this false story:
Google is delisting results! Be the first to speak the truth! Share now!
A Google search for this article's headline returns this Conservative Beaver story in a first-place position, but more generalized searches do not return results for this event that never happened. A DuckDuckGo search turned up no sign of a Chapek arrest on any charges, nor did a search on Russia-based Yandex.com return any reports of a Chapek arrest.
(image source: Google search results 2/15/21 12:05 PM EST)
Lead Stories has addressed fake news published by Conservative Beaver in the past:
A story claiming that Hunter Biden Had been arrested for possessing child pornography.
A story that George Soros was arrested for election interference.
A story that former President Obama had been arrested for espionage.
A story that the Pope had been arrested for trafficking children.
Further analysis of the Conservative Beaver website revealed that it has the same Google Adsense code as another website that quickly earned a reputation for fake news, TorontoToday.net. Lead Stories debunked these TorontoToday.net stories late in the summer of 2020. Currently the TorontoToday.net website is displaying a notice that the website was purportedly hacked.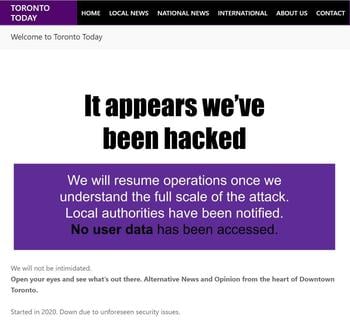 (image source: Screenshot homepage of Torontotoday.net 2/15/21 11:33 EST)
Lead stories has published fact-checks regarding several baseless Toronto Today articles including:
A story that Vladimir Putin's daughter died from the COVID-19 vaccine.
A story that California fire officials said the wildfires were coordinated arson.
A story that Chadwick Boseman had been poisoned.
2021-02-16T18:38:12Z

2021-02-16T18:38:12Z

Updated to add Burbank Police Department statement.