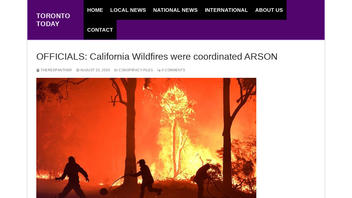 Did officials say arsonists responsible for starting the fires in California on August 15, 2020? No, that's not true: There was an unusual weather event, being referred to as a "lightning siege" that brought an estimated 14,000 lightning strikes to the dry, late-summer Northern California terrain. This resulted in 875 new wildfires. When many lightning strikes in an area start many small fires, together that cluster of fires is called a "Lightning Complex." California officials have not blamed arsonists.
The claim originated in an article (archived here) published by torontotoday.net on August 25,2020, under the title "OFFICIALS: California Wildfires were coordinated ARSON." It opened:
Massive wildfires have been raging across the state, ripping through cities, towns and rural neighborhoods. The damage has been so extensive it has forced thousands of residents to flee. To make matters worse, all of this is happening during the ongoing heatwave and coronavirus pandemic.

The blazes have blackened skies. Intense fires are spewing smoke across the Bay Area and sprinkling ash across the region. Videos flood the internet of damage to people's property.

Officials originally thought the fires were started by a rare lightning storm and stoked by hot, windy weather. However, some officials now believe it was caused by arsonists, working in conjunction with far-left terrorist groups, like Antifa.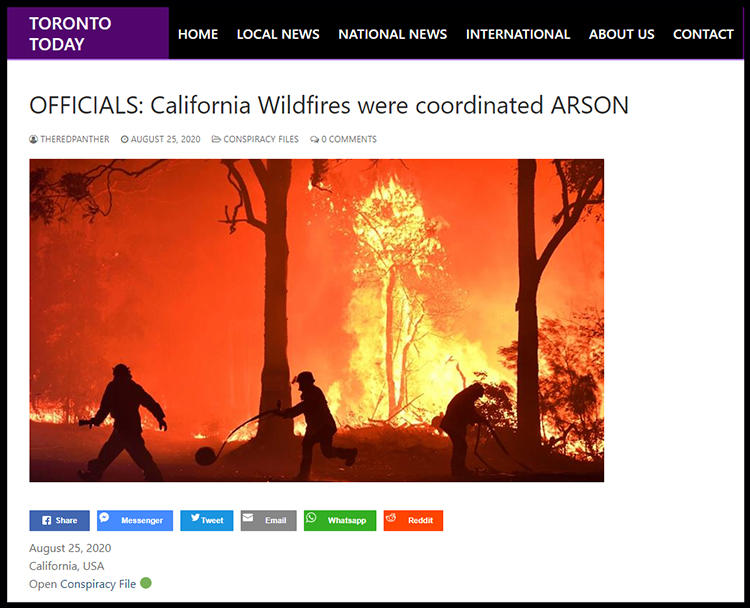 Screenshot of Toronto Daily as the article appeared on August 31, 2020
The article is peppered with suggestions that something other than the weather was responsible for starting the fires and causing the blackouts: Antifa arsonists and tampering terrorists. Toronto Today even suggests that the reason that no mainstream media is reporting on this story is that there is not an official statement to back up any of these unfounded claims. On this point, Lead Stories agrees -- there is no official statement to back up these unfounded claims.
The article continues:
These attacks have left fire crews stretched thin. The Governor of California even felt the need to step in. He's calling on people all over the country to come down to help out. However, some people believe the Governor should be calling for the army instead.

Daniel Swain, a climate scientist at the University of California, stated the fire was started by a confluence of extreme weather conditions. However, some of his colleagues believe that the fires were intentionally set, and the weather conditions merely made it worse.

Another scientist stated the blackouts were likely caused by terrorists tampering with the electrical grid. A Homeland Security official has confirmed this claim in private, but the agency has yet to release an official statement. Without an official statement, the mainstream media won't cover it.
While arsonists have been responsible for wildfires in the past, that possibility is not a focus as there were so many fires that were ignited in the lightning siege. The state of California has a dedicated website for wildfire information, (here)(archived here) and includes a map. CalFire has summarized the situation as it stands on August 31, 2020 this way:
Since the lightning siege that started on Saturday, August 15, 2020, there have been nearly 14,000 lightning strikes. During this time-period, there have been more than 875 new wildfires, which have now burned over 1.46 million acres. In this siege, there have been seven reported fatalities and over 2,800 structures destroyed. Seasonable weather conditions continue to aid firefighters in their efforts towards containment at lower elevations. Above 2,000 feet firefighters are still seeing low humidity without recovery at night. Warmer conditions are expected over the weekend and Isolated thunderstorms are still possible in the upper portion of northern California and the Sierra Nevada Mountain Range. A heat advisory is in effect for the northern most counties. A Red Flag Warning for interior Del Norte County, and Northeast Humboldt counties remains in place through 11am this morning due to gusty winds and low humidity.
This video from CalFire's YouTube Channel describes the conditions as they were on August 21, 2020. Two of the largest fires in California history are still burning, the LNU Lightning Complex and the SCU Lightning Complex, both in Northern California.
As for the question of the blackouts, that is also not something that state officials have suggested was due to terrorists tampering with the power grid. This video from August 17, 2020, on KCRA News, titled, "Statewide heat wave puts strain on California's power grid" features Severin Borenstein, a UC Berkley professor who is on the board of governors of the California Independent System Operator (CAISO). They manage California's power supply. He explained that the blackouts were caused by a high demand for electricity due to the hot temperatures, coupled with the daily fluctuation of the solar power supply. He said:
The overall picture is that the California grid ran out of energy. California relies on a lot of solar energy during the day and of course solar energy goes away when the sun sets. So the demand peak is now generally between 5:00 and 6:00 and once you take the solar out, the real problem starts occurring between 6:30 and 9:00. That's when we need people to not do laundry and to set their air conditioning to 78 degrees or higher.
Jeff Smith, a spokesman for California PG&E said:
We're seeing these really hot temperatures in parts of the state that don't generally experience that type of weather, and because of that there is just a lot more demand than there typically is even during the summer months.
The website Torontotoday.net was registered on July 8, 2020.
Lead Stories has recently written about TorontoToday.net, debunking a story on the site falsely claiming that actor Chadwick Boseman was poisoned. Boseman died of colon cancer.