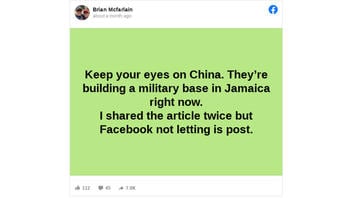 Is China building a military base in Jamaica right now? No, that's not true: The claim was made without reference to corroborating evidence. There's no publicly available evidence to support the claim, and an expert consulted by Lead Stories said that such a move wouldn't even make sense for China currently.
The claim appeared in a Facebook post (archived here) published on January 9, 2021. It read:
Keep your eyes on China. They're building a military base in Jamaica right now.

I shared the article twice but Facebook not letting is post.
This is what the post looked like at the time of writing:
(Source: Facebook screenshot taken on Mon Feb 15 17:08:41 2021 UTC)
The post did not provide any sourcing for its claim, and it's unclear what article it was referring to.
Lead Stories conducted searches on Bing, DuckDuckGo and Google. We found no credible corroboration of the post's claim. Some results, like this one from The New York Times, talked about China's growing reach in the Caribbean, but made no mention of a military base. Others, like this one from the Gatestone Institute, a far-right think tank, speculated on Chinese military bases in the Caribbean, but it was just conjecture. If China were building such a base, its construction would likely be front-page news and a subject of congressional and military policy discussions.
Lead Stories reached out to Evan Ellis, a research professor of Latin American studies at the U.S. Army War College's Strategic Studies Institute, to ask about the post's claim. In a February 15, 2021 email, he responded:
To the best of my knowledge, China is not building a military base in Jamaica and it would be highly surprising and unusual for me if that were the case.
He explained:
I have looked at Chinese military activities in Latin America for a long time, and have consistently come to the conclusion that in the near term, China has nothing to gain and everything to lose from establishing a formal military base or military alliance agreement in the hemisphere...particularly so close to the US. It would be costly and polarizing, giving justification to the US and conservatives across the region seeking to cast China's initiatives as threatening.
All of that is not to say that China hasn't invested heavily in Jamaica over the years. It has, in everything from a children's hospital to highway and bridge projects. Jamaica is one of the largest focuses of Chinese investment and infrastructure projects on a per capita basis in the Caribbean, according to Ellis. He said that China has also made material donations to the Jamaica Defense Force and the Jamaica Constabulary Force and regularly brings their personnel to China on trips.
In sum, there's no doubt the two countries share a significant relationship, but there is no evidence that China is building a military base in Jamaica right now.