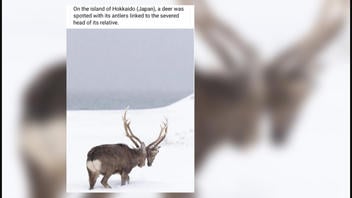 Did a deer wind up carrying the severed head of a dead "relative" stuck to his antlers, on the island of Hokkaido Japan? Yes, this is a real photo. The word "relative" used in the caption is likely a translation of a word meaning "one of his kind," and may not denote an actual member of his family. Sadly, sometimes deer do get their antlers locked together when they fight during the mating season. With antlers locked, they do not even have the option to accept defeat and walk away. The two locked rivals are stuck in a struggle to the death, a struggle that sometimes will claim both of their lives. It is not known how the head of the rival came to be detached from its body -- but this is a more hopeful outcome for the survivor than to be stuck to the whole carcass. Unlike horns, which stay on animals like bighorn sheep their whole life, deer antlers grow every year and fall off naturally at the end of the winter. If this deer survives to the time when his own antlers shed naturally, he will be free of this grim burden.
The photo appeared in a post (archived here) published on February 8, 2021. The caption text added to the photo read:
On the island of Hokkaido (Japan), a deer was spotted with its antlers linked to the severed head of its relative.
This is what the post looked like on Facebook at the time of writing: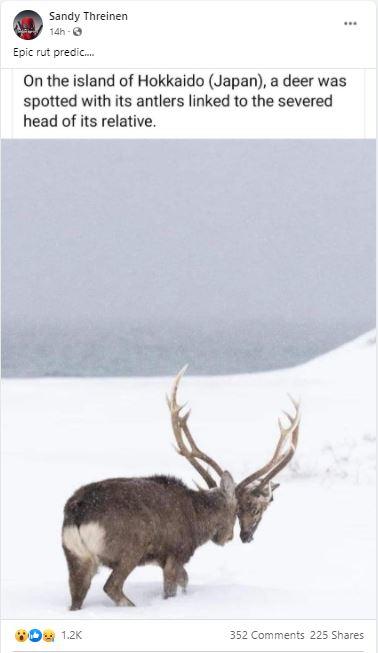 (Source: Facebook screenshot taken on Tue Feb 9 14:52:47 2021 UTC)
Because the photo scene is so unusual, and perhaps because the antlers appear to only be lightly touching, there is some question if this image has been photoshopped. Lead Stories research and analysis finds this is a real scene that was captured by professional wildlife photographer, Colette English. She uploaded this photo to Instagram on February 7, 2021.
A very high-resolution copy of the image posted to reddit by the photographer shows the state of decomposition of the rival's face, and more clearly shows the position of the locked antlers. The photographer, English, also shared a short video (username souji5okita) on imgur:
Fight to the death
Sika deer are native to Japan and this one was photographed on the island of Hokkaido. The antlers of sika deer are shed in April and May as the days are getting longer. There have been studies done that discovered that the cycle of antler shedding and regrowth is closely tied to exposure to light, a photoperiod.
Below is a still from the video side-by-side with the photograph. Although showing different sides of this deer, it's clear that the photo and video both depict the same animal in this rare situation.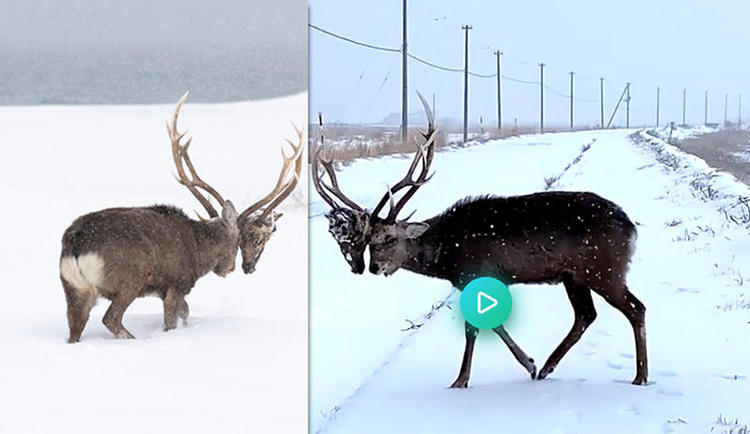 (image screenshots source: Reddit- Imgur Colette English 2/9/2021)