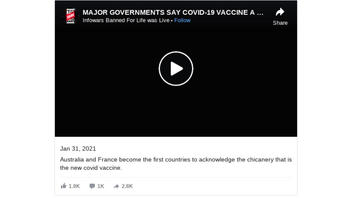 Did France and Australia suspend their COVID-19 vaccination programs and say vaccine is a fraud? No, that's not true. Both France and Australia are continuing their vaccination programs to protect people from coronavirus infection.
The claim originated as a post (archived here) where it was published by Alex Jones and Infowars.com on January 31, 2021, under the title "MAJOR GOVERNMENTS SAY COVID-19 VACCINE A FRAUD." It opened:
Australia and France become the first countries to acknowledge the chicanery that is the new covid vaccine.
This is what the post looked like on Facebook at the time of writing:
(Source: Facebook screenshot taken on Mon Feb 1 19:52:45 2021 UTC)
Jones claimed in a video he posted on Infowars.com and on Facebook that Australia and France, and pharmaceutical company Merck are suspending their vaccine programs:
What do you think Merck knows? What do you think Macron knows? What do you think the Australians know, suspending their vaccine programs because it 'does not work and harms people.
Jones also called the vaccine a "fricking bio-weapon."
Here are the facts:
Australia has had demonstrably low numbers of COVID-19 infections, with the daily count of new cases in single digits for the entire country during the last week of January 2021. Due to the minimal numbers, Australia had not begun vaccinating its population but was scheduled to do so in February, the BBC reported.

France has not halted its vaccine program. In the video Jones showed a screengrab of an article posted on Infowars.com titled, "France Says COVID Vaccine Does Not Work, Collapsing Hoax."
French President Emmanuel Macron expressed concern over one specific vaccine from Oxford-AstraZeneca, but the country is continuing to vaccinate its population against COVID-19. Politico reported Macron's comments regarding the AstraZeneca vaccine on January 29, 2021:
The real problem on AstraZeneca is that it doesn't work the way we were expecting it to," Macron told a group of reporters, including POLITICO, in Paris. "We're waiting for the EMA [European Medicines Agency] results, but today everything points to thinking it is quasi-ineffective on people older than 65, some say those 60 years or older."
Macron also praised the United States' "Warp Speed" program to develop vaccines and vaccinate people across the country, Politico reported.
France reported 19,235 new COVID-19 cases on January 31, 2021, according to Worldometers.com.
Jones' claim about pharmaceutical company Merck is misleading. The pharmaceutical company said it was halting development of its vaccines because they were not as effective in providing immunity as contracting the virus and recovering, and not as effective as other vaccines already in use.
There was a false claim that Merck, as it halted production of its vaccines said it was "better" to get COVID-19 and recover than to take its vaccines. Lead Stories debunked that claim here.