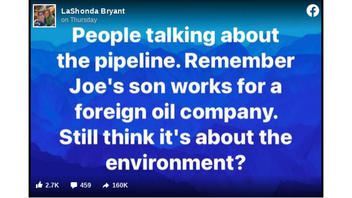 Does Hunter Biden work for a foreign oil company? No, that's not true: He used to sit on the board of Burisma Holdings, a Ukrainian energy company, but no longer. He left the board in 2019 and has said that he won't work for foreign-owned companies during his father's presidency.
The claim appeared in a Facebook post (archived here) published on January 28, 2021. It read:
People talking about the pipeline. Remember Joe's son works for a foreign oil company. Still think it's about the environment?
This is what the post looked like at the time of writing:
(Source: Facebook screenshot taken on Tue Feb 2 14:56:10 2021 UTC)
Although the post did not mention Hunter Biden by name, it had to be referring to him, as he is the president's only living son. The post also did not specify what "foreign oil company" it was referring to, but it was an apparent reference to Burisma. The "pipeline" in the post is the Keystone XL pipeline.
Hunter Biden served on the board of Burisma for five years, starting in the spring of 2014. Here's a press release from the company announcing his appointment. In that release, Burisma describes itself as a privately owned oil and gas company.
Biden's role with Burisma came under intense scrutiny, as former President Donald Trump and others accused Joe Biden of acting improperly as vice president to boost his son's business dealings. There is no publicly available evidence that's true.
Hunter Biden left Burisma's board in 2019. He spoke to ABC News about that role in October 2019, when Joe Biden was a presidential candidate, and pledged not work for foreign-owned companies during his father's presidency. Hunter Biden said:
I'm making that commitment. Let's see if anybody else makes that commitment. But that's the commitment that I'm making.
In the same interview, he talked about the fallout from his dealings overseas, saying:
Did I make a mistake? Well, maybe in the grand scheme of things, yeah ... But did I make a mistake based upon some ethical lapse? Absolutely not.
On his first day in office, January 20, 2021, President Joe Biden rescinded the construction permit needed to complete the Keystone XL pipeline as part of his effort to address climate change. The pipeline would have transported crude oil from Alberta, Canada, to refineries on the Gulf of Mexico.
Lead Stories has written about the pipeline before. See here and here for those stories.