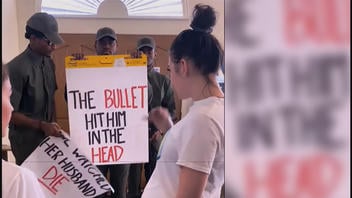 Did a woman receive news of her husband's death, as well as his last message to her, phrase by phrase, delivered by a detail of soldiers who tore pages off a large easel-size pad of paper? No, that's not true: These actors are role-playing in a staged scenario designed to engage the audience and keep them watching a video for at least three minutes.
The video appeared first, with a disclaimer, on February 14, 2021, on a Facebook Page "The Jibrizy Show." Since then, the video has been copied and reposted without the disclaimer. A post (archived here) was published by the page Mapagmahal on February 19, 2021, under the title "This woman received the last message from her D.E.A.D Husband while fighting in the army." The text narrative enclosed in the pages of the large paper pad read as follows:
We watched her husband die
The bullet hit him in the head
Trying to save a family's life
He bled to death in my arms
I'll never meet my daughter
Were his last words
He told us to do something
If anything ever happened to him
So we are keeping out promise
We came together today...
To give one last gift
A gift from her husband
A gift from beyond the grave
This is what the post looked like on Facebook at the time of writing:
(image source: Facebook screenshot 2/23/2021 2:23 PM EST)
Many Facebook pages have taken this video and posted it for their own audience without crediting Rick Lax Productions. Some copies of the video even have credits added at the end that claim the video as their own.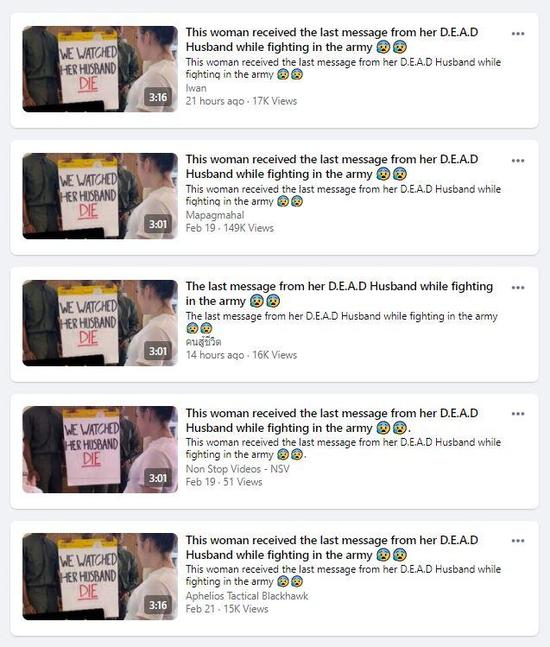 (image source: Facebook screenshot 2/23/2021 1:15 PM)
This video was originally three minutes and one second long and was posted to the Jibrizy Show page, one of several Facebook pages from Rick Lax Productions. The video was captioned with a disclaimer that read:
Thanks so much for watching this video! I do hope you enjoy it. Please note that this page features scripted dramas, parody, and satire. The events that take place in this particular short-film video are for entertainment purposes only. Similarities to actual people or actual events are coincidences. Thanks!
Lead Stories has written about several of the skit videos from Rick Lax Productions and explained how the three-minute-long video format is being shaped by requirements for video monetization from Facebook.