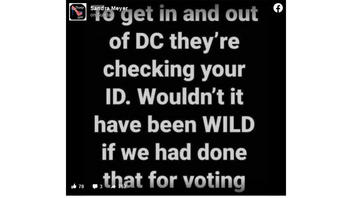 Is Washington, D.C., "checking your ID" for people "to get in and out of" the city? No, that's not true: There are currently no checkpoints at the city limits/boundaries of Washington, D.C.
The claim appeared a Facebook post (archived here) published February 14, 2021, which opened:
To get in and out of DC they're checking your ID. Wouldn't it have been WILD if we had done that for voting
This is what the post looked like on Facebook at the time of writing:
(Source: Facebook screenshot taken on Wed Feb 17 22:54:29 2021 UTC)
Two members of Lead Stories staff live near Capitol Hill in Washington, and observed no such checkpoints at the time the claim was posted to Facebook.
People at that time through the time this was written have been able to enter the city on surface streets, DC Metro, city and commercial buslines without being asked for I.D. For the week leading up to the January 20, 2021, inauguration, police closed some bridges in the vicinity of the Capitol Mall and restricted access to some areas around the U.S. Capitol. Some closures and restrictions were the customary security precautions for inauguration and other restrictions were stepped up in response to the January 6, 2021, attack on the Capitol Building and Congress. Even with heightened security, other bridges into the Capitol district were still open, with police downtown spot-checking by stopping cars to quiz occupants. Lead Stories' Washington staff travel the city's streets and report no such checkpoints into the 68 square miles of Washington, D.C.
The claim also suggests that voters are not required to show identification before casting their ballots. Thirty-six states had voter ID laws as of 2020, according to the National Conference of State Legislatures. Proponents of such laws claim they limit voter fraud. Opponents characterize them as a form of voter suppression. They say that African Americans and other people of color are less apt to have such identification because of the costs and, and sometimes involved procedures, involved in obtaining the ID.