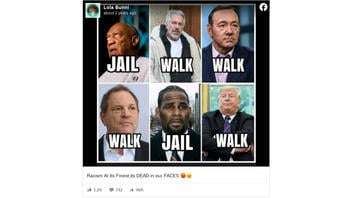 Did Jeffrey Epstein, Harvey Weinstein and other famous white men accused of sex crimes "walk" free from jail while Bill Cosby and R. Kelly were locked up? No, this is missing context. A meme from 2019 has gone viral in 2021, claiming Cosby and Kelly are in "jail" while Epstein, Weinstein, Kevin Spacey and Donald Trump were able to "walk" and not be in jail for alleged sex crimes. At the time the meme was originally published, Epstein was in jail. Weinstein was awaiting trial when the meme was originally published but he was in jail when the meme went viral in 2021. Donald Trump was never charged or arrested in connection with any assault claims.
The claim appeared as a post (archived here) first published on Facebook on July 18, 2019. It opened:
Racism At Its Finest,its DEAD in our FACES
This is what the post looked like on Facebook at the time of writing:
(Source: Facebook screenshot taken on Thu Feb 18 20:09:28 2021 UTC)
The meme had a picture of six men with a caption over each person that either read "jail" or "walk."
Cosby - Jail
Epstein - Walk
Spacey - Walk
Weinstein - Walk
Kelly - Jail
Trump - Walk
We break them down based on the date of the meme, July 18, 2019:
Cosby "Jail"
Cosby was convicted of three felony counts of aggravated indecent assault by a jury in Philadelphia on April 26, 2018, for drugging and molesting a woman at his home 14 years earlier. He was sentenced to three to 10 years in state prison on September 25, 2018. Cosby was in jail when the meme was published.
Epstein "Walk"
Epstein was arrested on July 6, 2019, on federal charges for the sex trafficking of minors in Florida and New York. He was jailed in the Metropolitan Correctional Center that day. He died in his jail cell on August 10, 2019, by suicide. Epstein was in jail when the meme was published.
Spacey "Walk"
Kevin Spacey was charged on December 24, 2018 with indecent assault for an alleged incident with a teenager in 2016. He was arraigned on January 7, 2018, but not jailed. On July 17, 2019 the District Attorney announced the charges were dropped against Spacey when the alleged victim pleaded the Fifth Amendment and refused to testify against Spacey. He was not in jail when the meme was published.
Weinstein "Walk"
Weinstein was arrested on May 25, 2018, and charged with rape, sex abuse, sexual misconduct and criminal sex act, for incidents with two separate women. He was released that day on a $1million bond. His trial did not begin until February 2020 but he was found guilty by the jury. He was sentenced to 23 years in prison on March 11, 2020. Weinstein was not in jail when the meme was originally published but he is in jail as of February 18, 2021.
Kelly "Jail"
Kelly was originally arrested on February 22, 2019, and charged with 10 counts of aggravated criminal sexual abuse. He was released from jail three days later after posting a $1million bond. He was arrested again on July 11, 2019, on 18 charges including child sexual exploitation, child pornography production, kidnapping, forced labor, racketeering, and obstruction of justice. He was in jail when the meme was published.
Trump "Walk"
Trump has never been arrested for any criminal charges for any alleged sex crimes. He has been accused of rape or sexual assault by 26 women over the years, but no criminal charges were ever filed against him. In June 2019, writer E. Jean Carroll said Trump raped her in a New York department store in 1995 or 1996. He was not arrested for the crime but she filed a lawsuit against him in November 2019, saying he defamed her in his public denial of the rape. Trump was not in jail when the meme was published.