Is it possible to painlessly and completely remove a tattoo in just a few minutes using a variety of items that could be purchased at a grocery store? No, that's not true: This demonstration includes a video trick that creates the illusion that black tattoo ink has been completely drawn out of the subject's skin, has passed through some cucumber slices and has been deposited in a Mr. Clean Magic Eraser sponge. Some cuts of the video are flipped. This makes the actor's right inner arm, which is not tattooed, appear to be his left inner arm, which moments before had a tattoo on it.
The video appears in a post (archived here) published on Facebook by Paul Vu on March 19, 2021. It was captioned:
He got RID of the TATTOO!!
This is what the post looked like on Facebook at the time of writing:
(Source: Facebook screenshot taken on Tue Mar 23 13:47:18 2021 UTC)
This Facebook page, Paul Vu, frequently posts prank, hoax and staged skit videos that typically have a disclaimer stating that they are just for entertainment.
The purported tattoo removing process shown in the video involves several ingredients, PAM cooking spray, fresh aloe vera gel, thinly sliced cucumbers, a Mr. Clean Magic Eraser sponge moistened in warm water and cling plastic wrap. The demonstration carefully shows details of the process, such as how to get the gel out of the aloe plant. This stalling may in part be to ensure that the video is at least three minutes long, which can help the producer/poster earn more advertising revenue.
The person who is doing the demonstration is missing the tip of their left index finger. At the end of the video, when it is time to remove the cling wrap to reveal if the cooking spray, aloe, cucumber, and magic eraser sponge treatment have had an effect on the test subject's tattoo, the demonstrator is now missing the tip of their right index finger. This points to that portion of the video being flipped- the right arm of the test subject is shown as the left, rather than the tattoo having been removed from his left arm.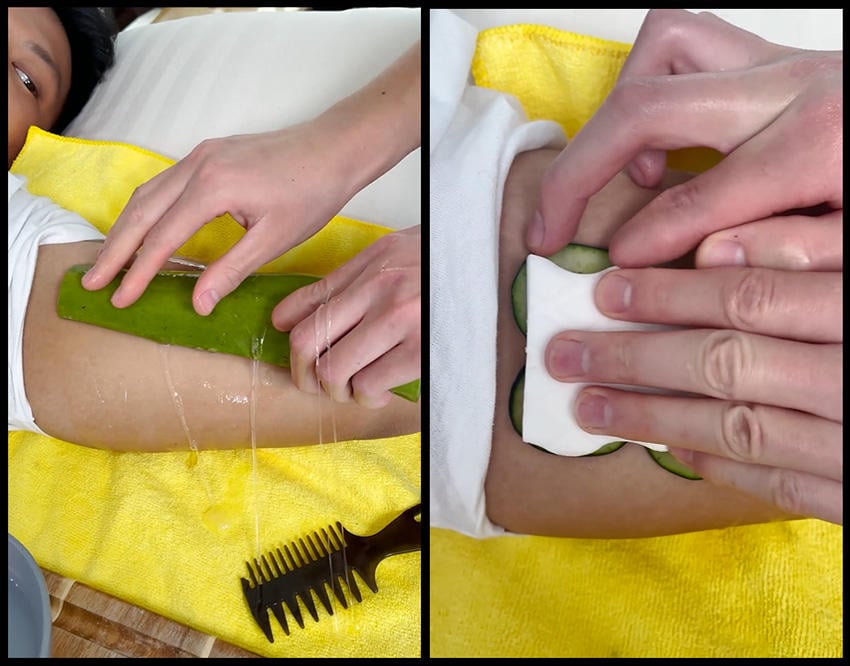 (Source: Facebook screenshots taken on Tue Mar 23 14:57:49 2021 UTC)