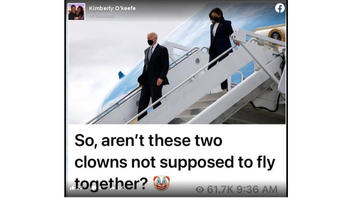 Did President Joe Biden and Vice President Kamala Harris fly together on Air Force One? No, that's not true. The president and vice president took separate planes to Atlanta on March 19, 2021. She flew on Air Force Two and he flew on Air Force One. When they landed, Harris boarded Air Force One to be briefed with the president and they exited the plane together shortly after 1 p.m. local time, according to the White House traveling reporters and photographs from the airport.
The claim appeared as a post (archived here) where it was published on Facebook on March 21, 2021. It opened:
So, aren't these two clowns not supposed to fly together?
This is what the post looked like on Facebook at the time of writing:
(Source: Facebook screenshot taken on Tue Mar 23 17:29:39 2021 UTC)
President Biden and Vice President Harris arrived in Atlanta on Air Force One and Air Force Two, respectively, on March 19, 2021.
This memo from one of the reporters selected from among the White House press corps to be on Air Force 1 detailed their arrival in separate planes, followed by their walk down the stairs from Air Force One. The journalists who cover the White House cannot always fit in places and planes used by the president. They share their observations through "pool reports" prepared by a designated reporter who has full access at the event. In this case, an email obtained by Lead Stories on March 19, 2021 shows what Rob Crilly, a reporter for The Washington Examiner, observed.
From: Rob Crilly
Sent: Friday, March 19, 2021 1:18 PM
To: Perez, Angela D. EOP/WHO ; Wranglers
Subject: [EXTERNAL] Travel pool #4: Air base

Pool held aboard AF1 on arrival to give VP chance to board and get briefed with POTUS.

They exited together at 13:13 with POTUS a few steps ahead of VP. They spoke briefly with greeters (details below). POTUS and VP exchanged a few more words and she made for pmotorcade while he strode off to Marine One, putting in a couple of jogging steps on the way

Pool is in ospreys for DeKalb-Peachtree Airport and won't see M1 lift off.

From White House, greeters are:
Colonel Craig McPike, Dobbins Installation Commander
Chief Master Sgt. Vicki Robertson, Airlift Wing Command Chief

Weather is blustery but pleasant when the sun peaks through clouds.

AF1 and AF2 are parked up about 300 yards apart.
A Reuters catalog of photographs offered to the news agency's customers shows Harris departing from Air Force Two in Atlanta on March 19, 2021. The caption read:
U.S. Vice President Kamala disembarks from Air Force Two before driving to Air Force One to meet up with U.S. President Joe Biden to travel to the Centers for Disease Control in Atlanta, as she arrives at Dobbins Air Reserve Base in Marietta, Georgia, U.S., March 19, 2021."

The president and the vice president do not usually fly together on Air Force One for security reasons, as The New York Times reported.
When they are traveling to the same location for joint appearances, they arrive separately and the vice president will sometimes join the president aboard Air Force One for briefings.
In 2017 President Donald Trump took Air Force One to Phoenix, Arizona, for a rally and Vice President Mike Pence flew on Air Force Two, as News 12 in Arizona reported:
Air Force One has landed at Sky Harbor from Yuma, where President Trump toured U.S. Customs and Border Protection equipment and met with Marines stationed there. Vice President Mike Pence arrived just before 3:30 p.m. onboard Air Force Two."
A photo of President Trump and Vice President Pence walking down the stairs of Air Force One in 2017 is on Alamy.com.