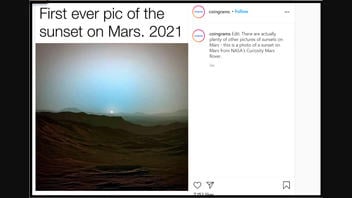 Was the first-ever picture of a sunset on Mars taken in 2021? No, that's not true: NASA published the first image of a Martian sunset in 1976.
The claim that the first Martian sunset picture was taken in the 21st century has appeared in several social media posts, with various images attached to each claim. A 2021 version of the claim, here (archived here), has text stating:
First ever pic of the sunset on Mars. 2021
This is what the post looked like on Instagram at the time of writing:
The post, which at the time of writing was already flagged as misinformation, includes a caption that still contains false information:
Edit: There are actually plenty of other pictures of sunsets on Mars - this is a photo of a sunset on Mars from NASA's Curiosity Mars Rover.
The image is actually an illustration created by Mark Garlick, a freelance artist based in the United Kingdom with a doctorate in astrophysics. In an email to Lead Stories on March 29, 2021, Garlick said he created the illustration in December 2018. It was posted to his Twitter account with other original illustrations that month as well. "I created the landscape using software called 3DS Max. Then I added the sky in Photoshop," he said.
Garlick's illustration was also uploaded to Fine Art America on October 21, 2019, with the following description:
Illustration of a sunset on Mars. Dust and small particles suspended in the Martian atmosphere scatter light in the direction of the Sun forward. This creates a blue halo around the setting Sun, rendering a Martian landscape quite different from its terrestrial equivalent. It's the same process as occurs on Earth, except that Mars' atmosphere is much thinner. While on Earth, blue light is scattered all over sky during the day, Mars' thin atmosphere means that this blue colour only becomes apparent at sunset and sunrise in the direction of the Sun. Mars' moons, Phobos and Deimos, are seen above the Sun to the right.
The description mirrors NASA's explanation that bluish Martian sunsets reflect the human view of a Martian sunset. Because of the fine dust particles on Mars, the blue of the sky from that planet appears more pronounced.
In a tweet from March 15, 2021, Garlick expressed his disapproval of his illustration being portrayed as a Martian sunset photograph on social media:
This ARTWORK is doing the rounds on Twitter, after some idiot removed my name from it and then labelled it 'First photo of a sunset on Mars'. It's bullshit.

16k likes so far, and still going. For a f******* fake.

Feeling pissed. pic.twitter.com/rBy4hJok18

-- Mark A. Garlick 🌖 (@SpaceBoffin) March 15, 2021
One of the first images ever taken around sunset on Mars was captured by NASA's Viking 1 lander on August 21, 1976. The image shows the Chryse Planitia region of the planet and was taken about 15 minutes before sunset. Since then, there have been several photographs taken on Mars during sunsets and sunrises. On May 1, 2019, the Twitter account for NASA's Jet Propulsion Laboratory published a Twitter Moment that documented the history of images captured by NASA of Martian sunsets and sunrises.