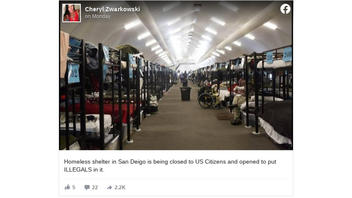 Are U.S. citizens in San Diego being displaced from a homeless shelter because asylum seekers are being moved in? No, that's not true: Although the post does not specify the San Diego Convention Center, that was the city's temporary shelter for homeless people during the COVID pandemic. When it was due to close, federal officials asked to use it as temporary shelter for unaccompanied minors seeking asylum. The convention center was part of San Diego's plan to help homeless people during the COVID-19 pandemic because conventions were not taking place and more physical distancing was available there than at other facilities. The Convention Center shelter was to close at the end of 2020, but that was extended into March of 2021. The homeless who had sheltered there were scheduled to move to other shelters or housing. For three months, the San Diego Convention Center, at the request of the federal government, agreed to shelter unaccompanied migrant children -- girls who are between 13 and 17 years old.
The claim appeared in a post (archived here) on Facebook where it was published on March 29, 2021. It was captioned:
Homeless shelter in San Deigo is being closed to US Citizens and opened to put ILLEGALS in it.
This is what the post looked like on Facebook at the time of writing:
(Source: Facebook screenshot taken on Tue Mar 30 15:08:48 2021 UTC)
The photo accompanying this Facebook post is not a recent photo of the San Diego Convention Center shelter. This is a 2018 photo of a tent-like "sprung structure" that appeared in a February 4, 2018, article by NBCNews.com about a Hepatitis A outbreak. A more accurate representation of the open floorplan of the Convention Center shelter can be seen in a March 27, 2021, latimes.com article (archived here) "San Diego Convention Center to shelter first 500 migrant girls this weekend".
San Diego's effort to assist homeless people during the coronavirus pandemic was launched April 1, 2020, and named "Operation Shelter to Home." The convention center shelter was originally going to be closed by late December, but a regional spike in COVID-19 cases delayed that plan. On January 26, 2021 the City Council voted unanimously to extend the plan to March. On March 5, 2021, the San Diego city website for Operation Shelter to Home published the plans for t/he transition away from using the convention center:
Where will people go?
No one sheltering at the Convention Center will be forced to return to street homelessness. All residents have been notified of the upcoming transition. Over the coming weeks, staff will work with guests to determine the best option to continue serving them at one of the other shelter sites. Housing navigation staff will continue to support individuals and continue matching them to units and resources like vouchers and subsidies.
The convention center shelter will now be put to use by the federal government. A March 22, 2021, article by NBCsandiego.com explains, "City, County Agree to Use San Diego Convention Center to House Children Seeking Asylum." The article includes a joint statement issued from San Diego's mayor, Todd Gloria and San Diego County Board of Supervisors chair Nathan Fletcher:
When HHS Secretary Xavier Becerra requested our help to house some of the unaccompanied minors at the border, we knew it was the right thing to do. Over the weekend, we agreed to open our convention center to the federal government for use as a temporary shelter. The city and county will support this federally funded effort by providing vital services to these vulnerable children who came to our country seeking safety. We are working closely with our federal partners to finalize the details for preparing to receive these young people and provide them with care, compassion and a safe space to transition while they are reunited with families or sponsors.
In a video posted on Twitter, Fletcher, explained the humanitarian care that will be available to unaccompanied migrant children during the time they stay at the San Diego convention center as they are reconnected with their families.
Taking children into our Convention Center who are arriving at our borders alone, and asking for asylum is the right thing to do. pic.twitter.com/iHR9h88Z6r

-- Supervisor Nathan Fletcher (@SupFletcher) March 27, 2021
Lead Stories reached out by email to the office of Fletcher and to two of the organizations that will be working to house people who had previously been sheltering at the convention center, The Alpha Project and Father Joe's Villages. We will update this story with additional information, as necessary, when they respond.