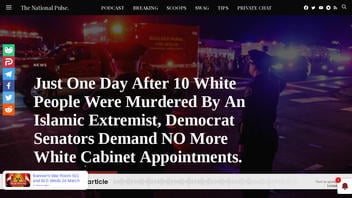 Is the Colorado shooting suspect an "Islamic extremist"? Did Democratic senators demand a "ban on further cabinet appointments for white people" one day after that mass killing? No, that's not true: There is no publicly available evidence the 21-year-old man identified as the suspect in the Boulder, Colorado, King Sooper shooting is an "Islamic extremist" and some evidence he was non-religious. As for the contemporaneous battle over the make-up of President Joe Biden's administration, Democratic Sens. Tammy Duckworth and Mazie Hirono did not call for an outright ban on white people in the Cabinet, but stalled approval of Biden picks until Asian American Pacific Islander communities were represented.
The claims appeared in an article (archived here) published by The National Pulse on March 24, 2021. The article, which was titled "Just One Day After 10 White People Were Murdered by an Islamic Extremist, Democrat Senators Demand NO More White Cabinet Appointments," opened:
Just one day after an Islamic State-inspired terrorist murdered 10 white people in Colorado, Democratic Party senators demanded a racist, anti-white ban on further cabinet appointments for white people.
Users on social media saw this title, description and thumbnail:
Democrat Senators are pushing a racist, anti-white demand for "diversity" in the U.S. cabinet. Biden's White House is caving to them.
Authorities have identified the Colorado shooting suspect as Ahmad Al Aliwi Alissa, 21, of Arvada, a suburb of Denver. He's been charged with 10 counts of murder in connection with the shooting that took place March 22, 2021, at the King Soopers grocery store in Boulder, Colorado.
The National Pulse article offered no proof to substantiate its claim that Alissa is an "Islamic State-inspired terrorist" other than this sentence: "The murderer, Ahmad al-Issa, had posted anti-Trump messages on his Facebook page, and was a reader of the Washington Post, NPR, and The Intercept, all of which have peddled anti-white race hate."
But Colorado authorities have said it's too early in the investigation to say what his motivations might have been.
Boulder County District Attorney Michael Dougherty told reporters:
Why did this happen? We don't have the answer to that yet, and the investigation is in the very early stages. The investigators are working hard to determine that, and that information will come.
Later, during the same press conference, Dougherty said that Alissa had lived most of his life in the United States. You can watch the full news conference at the link here:
#BoulderShooting live update 3/23/21 8:30 AM https://t.co/T3yXqQ1TP9

-- Boulder Police Dept. (@boulderpolice) March 23, 2021
According to the suspect's brother, who spoke to CNN, the family emigrated from Syria. Alissa may have been suffering from mental illness and was not very political or particularly religious, his brother reportedly said.

The article published by The National Pulse connected the shooting to an ultimatum issued this week by Sens. Duckworth and Hirono. Duckworth, representing Illinois, reportedly said that she would not vote for any of Biden's nominees, "other than diversity nominees," until her concerns about the lack of AAPI representation were addressed. Hirono, representing Hawaii, joined Duckworth's threat. The two women are the only two Asian American members of the Senate.
Shortly after, the White House announced that it would add a senior AAPI adviser. White House Press Secretary Jen Psaki told reporters on March 24, 2021:
As we noted in a statement we released last night, we are also adding a senior level Asian American Pacific Islander liaison, who will ensure the community's voice is further represented and heard -- not just around crises, not just around an increase in violence -- but, in general, playing an important role with a seat at the table.
You can watch her comments in the embedded video below:
The White House promise was enough for both Duckworth and Hirono to back off their threat. Hirono welcomed the new appointment and said that she would "continue voting to confirm the historic and highly qualified nominees President Biden has appointed." She tweeted:
Based on the private conversation we had, I will continue voting to confirm the historic and highly qualified nominees President Biden has appointed to serve in his administration.

-- Senator Mazie Hirono (@maziehirono) March 24, 2021
Duckworth similarly said that she would no longer oppose Biden's nominees. In a statement, emailed to Lead Stories on March 24, 2021, spokesperson Ben Garmisa said:
Senator Duckworth appreciates the Biden Administration's assurances that it will do much more to elevate AAPI voices and perspectives at the highest levels of government, including appointing an AAPI senior White House official to represent the community, secure the confirmation of AAPI appointments and advance policy proposals that are relevant and important to the community. Accordingly, she will not stand in the way of President Biden's qualified nominees--which will include more AAPI leaders.
NewsGuard, a company that uses trained journalist to rank the reliability of websites, describes thenationalpulse.com as:
A conservative news site edited by former Breitbart U.K. editor Raheem Kassam. The site has published inaccurate and misleading articles and mixes news with opinion.
According to NewsGuard the site does not maintain basic standards of accuracy and accountability. Read their full assessment here.