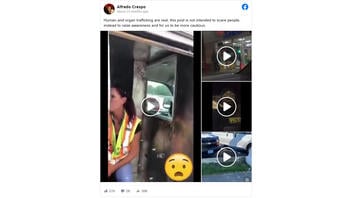 Does the proliferation of "white van" warning videos show that vans in the most common truck and van color are to feared as the tools of kidnappers engaged in human trafficking or organ harvesting? No, that's not true: Governmental and private anti-trafficking organizations with expertise do not single out white vans on their websites. These videos show ordinary work vans with after-market features installed for various trade and professional needs. There is no basis for suspecting people who drive white work vans of anything just because of modifications and custom equipment.
This collection of videos were originally posted (archived here) on Facebook on December 8, 2019. The collection of videos began circulating again in September 2020. The caption on the post reads:
Human and organ trafficking are real, this post is not intended to scare people, instead to raise awareness and for us to be more cautious.
This is what the post looked like on Facebook at the time of writing:
(Source: Facebook screenshot taken on Fri Sep 25 15:32:45 2020 UTC)
According to multiple websites dedicated to car-buying and selling, white is the most common color for vans, trucks and SUVs, which means white vans are most likely to show up in reports of van-related criminal activity of any kind. It also means an urban legend about van-driving kidnappers might be scariest if the vans were white, rather than a less-ubiquitous color.
The four videos included in this post show:
1. Some women, at least two wearing vests with the logo of Manheim auto auction, examinging the features of a custom van, expressing surprise at custom wiring in the van and the apparent soundproofing of the interior of the van. Lead Stories reached out to Atlanta-based Manheim auto auction for any information about when and where the video was made, but was told the company did not release information on vehicles except to buyers.
2. A man in Newark, New Jersey, who says he saw a man in a white van follow a girl into a 24 Seven store. The van had "padded locks" on the doors, he says.
3. A person who appears to be wearing a police vest sends a personal message to the women of his family and the world about the seriousness of kidnappings and self-defense during the holidays.
4. A young man does a fast review of many self-defense tips but includes an alarmist warning about flyers laced with powder under windshield wipers and about getting injected with a drug.
It is helpful to understand the context of when these videos were collected and posted in the cycle of viral trends. There was quite a stir when on December 3, 2019, during an interview with 11 News, Mayor Jack Young of Baltimore made a statement regarding reports of a person in a white van trying to snatch young girls. When asked if this report came through the police, the mayor said that this was all over Facebook.
After this interview, WBAL followed up with the Baltimore police and the FBI to see if there were any incidents of attempted abductions involving white vans. The station reported in this article: Mayor's comments on human trafficking not based on specific incident
So where did the mayor get the idea that this is happening in Baltimore? In the interview with 11 News, the mayor pointed to posts on Facebook. Both city police and the FBI told 11 News that they are aware of the social media posts, but they have no reports of such crimes actually happening.

A City Hall representative told 11 News that the mayor was making a general comment and was not talking about a specific incident.
The next day, December 4, 2019, CNN covered the story in an article titled, "A Facebook rumor about white vans is spreading fear across America." That article mentioned a situation that had been playing out in Detroit in late November 2019. A woman witnessed a disturbance between and man and woman at a gas station and called the police. She also made a Facebook video. It turns out that what she saw was a domestic argument, but the video on Facebook had a life of its own. One Detroit man was harassed by a woman suspecting him of being a kidnapper, she followed him in her car. ClickonDetroit wrote about that here, "Detroit handyman harassed by people who think he's involved in human trafficking because of white van."
That handyman made this post on Facebook on November 19, 2019: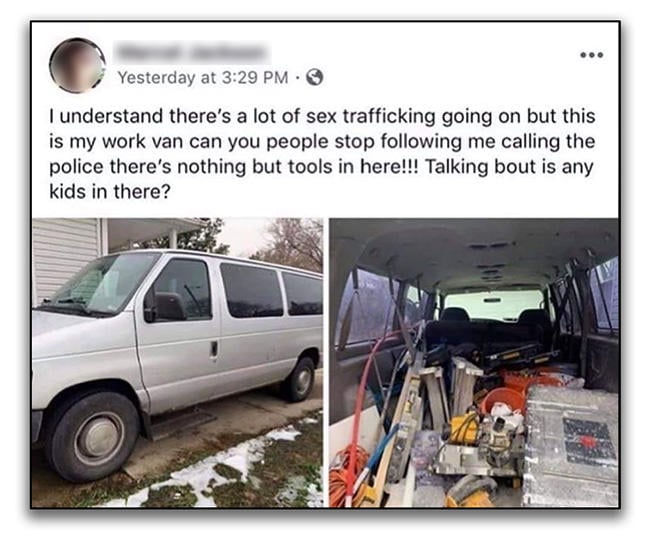 Facebook user Gjuandell Effinger was one of the people sharing some of the many white van warnings that were circulating at the time. On the morning of November 24, 2019, she posted a video on Facebook claiming that a man in a white van had tried to abduct her. Her sons went to where this white work van was parked in Memphis, Tennessee, and shot the 60 year old driver, Nazario Garcia. He tried to get away, but crashed and died soon after. Local reports say there was no evidence that Garcia had ever tried to abduct Effinger. The story was reported in an article by WMC Action News 5 on November 27, 2019: "Woman shared Facebook warnings about white vans before deadly shooting."
There is no special warning about white vans, nor mention of white vans on the U.S. Justice Department's Human Trafficking Task Force website.
The National Center for Missing and Exploited Children's 10-year analysis of attempted abductions of children makes no mention of vans, white or otherwise.