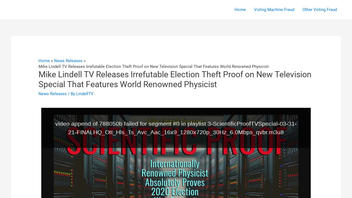 Was 2010 census data used to cast fraudulent votes of dead voters and those who had changed addresses in a nationwide hack of the 2020 election? No, that's not true. By law, 2010 census data at the individual name level will not be available until 2082, and the U.S. Census Bureau and cybersecurity agencies say there has been no data breach. For the claim to be true, voting machines in every jurisdiction would have to be internet-linked before, during and after the election, which independent election observers and local state and federal officials have shown was not the case, as have voting-machine makers.
The claims originated in an article published by LindellTV on March 31, 2021, titled "Mike Lindell TV Releases Irrefutable Election Theft Proof" (archived here), which refers to statements made by Douglas Frank, a Ph.D. analytical chemist from Cincinnati, Ohio. The article says:
Dr. Frank's investigation reveals that the 2010 national census data was used to manipulate the 2020 election rolls and to inject phantom votes into the election totals...Dr. Frank explains that the 2010 census was used to actually cast votes for voters that had either passed away or no longer lived in the county or state.
Users on social media only saw this title, description and thumbnail:
To view this video please enable JavaScript, and consider upgrading to a web browser which supports HTML5 video Download Video On March 31st, Mike Lindell, the CEO of MyPillow, released a one-hour television special entitled, Scientific Proof: Internationally Renowned Physicist Absolutely Proves 2020 Election Was Biggest Cyber-Crime in World History. The special broadcast features Dr. ... Mike Lindell TV Releases Irrefutable Election Theft Proof on New Television Special That Features World Renowned Physicist Read More »
Neither the article nor the video it describes provide credible witnesses, documents or other independent verification of the claim that census data about named individuals was obtained and used to cast votes for the dead and those who relocated, an extraordinary claim that would require equally extraordinary proof.
The Census Bureau does not give political activists lists of residents by name and address, cannot help locate missing persons and can't provide recent information on individuals to innocent genealogists, let alone to nefarious political operatives. It is forbidden to give out such details, the Bureau says on its website:
By law, personally identifiable information collected for a decennial census is released to the public after 72 years.
The other way to access census data files with name, address and age would be to steal it, a means which neither Lindell nor Frank mentioned as the source of census lists of individuals. Lead Stories looked for publicly available evidence of a census data breach. Internet searches turn up no reports of theft of the 2010 data, and the Census Bureau has specifically addressed the question of breaches in a statement that says, in part:
Census Bureau systems were not compromised.

There have been reports of an unsecured 800 gigabyte database, owned by an unidentified party, comprised of over 200 million personal user records...A website alleges "that much of the data on the main folder might have originated from the United States Census Bureau". This is false.

The Census Bureau reviewed the sample data and determined that it did not come from the Census Bureau. The initial reports mentioning the Census Bureau also stated that "analysts suspect that the database belonged to a data marketing firm or a credit company."
Lindell, the CEO of MyPillow, is being sued by Dominion Voting Systems for $1.3 billion for what the company says are defamatory false statements that Dominion's machines were used to steal votes from Donald Trump in the 2020 presidential election. In a Zoom meeting with Lead Stories staff on February 18, 2021, Lindell said he welcomes Dominion's suit and is certain he'll prove Dominion participated in election fraud. Dominion says the MyPillow CEO is using the controversy to sell pillows and to otherwise profit by destroying Dominion's reputation.
In the LindellTV.com article and the video, neither Lindell nor Frank provided independent verification of their claims. Using a set of line graphs that Frank says indicate population, registration and voting patterns match too perfectly to be anything but computer-generated, they declare U.S. election officials and equipment and software were hackable, and hacked, through a cyberattack that required access before, during and after Election Day.
Frank says he and his associates knocked on the doors at addresses drawn from voter rolls and that a voter registered to those addresses was missing in 30% of all cases. Lead Stories has asked for his data and will report back what we learn from it, if he supplies it.
Lead Stories has similarly asked Frank for the data and formulas he used to draw the line graphs he says are proof that election results across the U.S. were manipulated by a set of computer instructions -- algorithms -- that automatically created fake votes, fake tallies and stole the election from Donald Trump. Lead Stories will report his response and will ask political scientists and others with experience analyzing elections to review the assumptions he has made in his assertion that county-by-county vote tallies too-perfectly follow the age-group demographic numbers from the 2010 census.
At 21 minutes and 18 seconds into the video linked to from the LindellTV article, Lindell says election fraudsters were caught off guard by a wave of unexpected support for Donald Trump. Recycling false claims Lead Stories has debunked, that swing-state election officials engaged in fraudulent counting late on Election Day and the day after, Lindell said:
When you set these algorithms, one of the things you really need to know is ...the number of people that are going to be in the race ... They were so off with Donald Trump because they predicted 68 million and he ends up getting 80 million in reality. That's why it all shut at 3 in the morning ... they had to adjust the algorithm ...The name of the machine doesn't matter. Smartmatic, E.S. & S.
At 22 minutes and 30 seconds into the video, Lindell said he has seen "spyware" and other tools that show incursions into U.S. voting systems, something manufacturers say is impossible, given that election security standards forbid online connection to voting systems. Lindell, ignoring the Dominion Voting Systems' suit and its demands that he stop saying it helped defraud voters, said:
Five million votes disappeared somewhere and then you give the other guy 12 million and it can only be done by machines ... And there has to be some super computer that's doing that ... It can only be done by machines. I can't stress that enough. And they all rhyme with Dominion, Smarmatic, ES&S.
The Cincinnati chemist's line graphs and verbal claim that he found more than 500 "missing" voters in a hand-canvass of registered voters' addresses contrast sharply with the findings of election security experts with Homeland Security Agency-level access to communications networks, elections systems and CIA and FBI surveillance of foreign and domestic malicious actors who would seek to wreck U.S. elections.
Nearly a month after Election Day, Attorney General William Barr, a loyal supporter of President Trump, told the Associated Press Justice Department investigators looked into reports of election fraud and found no evidence of widespread fraud.
The U.S. Cybersecurity and Infrastructure Security Agency said on Nov. 12, 2020, that 2020 was the most secure election in U.S. history, adding:
While we know there are many unfounded claims and opportunities for misinformation about the process of our elections, we can assure you we have the utmost confidence in the security and integrity of our elections, and you should too.
Frank, an expert in precision control of manufacturing machines and instrumentation, says he knows better than the director of National Intelligence (DNI) who on March 15, 2021, declassified the election-theft findings of the dozens of U.S. agencies and hundreds of thousands of intelligence workers in the "Intelligence Community." The DNI's report found no evidence foreign actors attempted to alter any technical aspect of U.S. election systems, including voter registration, ballots, vote tallying or tally reporting.
Some of the agencies included in the Director of National Intelligence's responsibilities include the CIA, Defense Intelligence Agency (DIA), the National Security Agency (NSA), the National Geospatial-Intelligence Agency (NGA), the National Reconnaissance Office (NRO), and intelligence elements of the five DoD services; the Army, Navy, Marine Corps, Air Force, and Space Force. The DNI also draws on the resources of the Department of Energy's Office of Intelligence and Counter-Intelligence; the Department of Homeland Security's Office of Intelligence and Analysis and U.S. Coast Guard Intelligence; the Department of Justice's Federal Bureau of Investigation and the Drug Enforcement Agency's Office of National Security Intelligence; the Department of State's Bureau of Intelligence and Research; and the Department of the Treasury's Office of Intelligence and Analysis.
Lead Stories has debunked previous identical or similar claims, by Lindell and others: that voting machines were internet-linked (they are not), hacked ("hack" data charts appear fabricated) and that election officials were too unsophisticated to recognize that secret electronic backdoors put the U.S. election system under the control of malicious foreign forces.