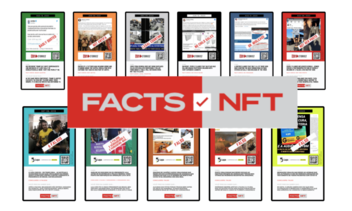 At Lead Stories we are always open to trying out new technologies and methods when it comes to fact checking. The only way to truly know if something works or not is to try it out. Which is why we are happy to announce we have chosen to participate in a new initiative that seeks to explore if trading representations of fact checks on the blockchain in the form of "Non-Fungible Tokens" (NFTs) can be a novel way to fund fact checking initiatives. If you buy or trade one of our fact checks here to add it to your collection or just to brag about owning a piece of history we will get a cut of the proceeds which we will use to fund our staff and operations.
Given that artists and writers have used NFT marketplaces with great succes in recent months we are excited about learning if the same approach will also work for fact checking. We can't wait to see where this experiment will take us and hope some of our fans and readers will come to use the FACTS-NFT marketplace to show their support for us and fact checking in general.
You can read the full press release (including more information about the other partners in the project) below:
April 2, 2021

Fact-checkers launch an NFT platform and start selling fact-checks in cryptocurrency
In April's collection, FACTS-NFT offers dozens historical fact-checks produced on four continents
Fact-checkers from four continents are coming together this Friday (April 2), International Fact-Checking Day, to launch the first online marketplace for those interested in buying and/or selling fact-checks in NFT format (non-fungible tokens).
In association with Agência Lupa (Brazil), Lead Stories (United States), Newtral (Spain), and Taiwan FactCheck Center (Taiwan), FACTS-NFT is offering more than 20 fact checks carefully selected from these four organizations archives. In this first collection, buyers will find fact checks about politics, health, the environment, and celebrities.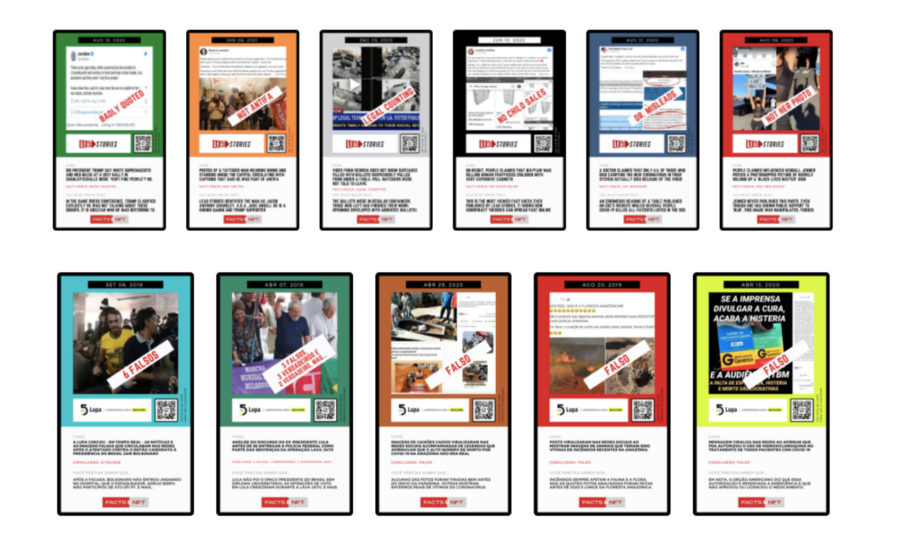 By taking this step, FACTS-NFT and fact-checkers intend to reach a new audience and test a new funding model to fight misinformation.
In recent months, and especially during the COVID-19 pandemic, fact-checking has become indispensable - a service capable of not only empowering citizens making important decisions but also saving lives.
Therefore, by entering into the cryptocurrency universe, FACTS-NFT and fact-checkers seek to involve people who value facts and want to support the fact-checking community. FACTS-NFT is offering a new financing option for those who are willing to support this effort and also providing an item that can either be part of a collection or be seen as a financial asset ready to be resold.
Each fact check will be traded for 0.05 ETH (approximately $95). To purchase one, simply follow the step-by-step instructions available on the FACTS-NFT website.
Once a fact check is purchased, the buyer will receive the requested token as well as exclusive material about its production (behind the scenes, extra information, comments, etc.). The fact-checking organization will earn 86% of the transaction value (14% will be spent on fees). The fact-checking organization will be able to get up to 10% of each new transaction.
The FACTS-NFT market is an exciting new way to financially support the work of fact-checkers by allowing the public to become the patron or collector of one or more historical and remarkable fact checks. Everyone should know that purchasing an NFT fact check does not afford the buyer any influence or say in the editorial process and policies of the fact-checking organizations here involved. True supporters of fact-checking know the value of fact-checkers lies in their independence and non-partisanship and the public should not have it any other way.
About NFTs

NFTs are cryptographic tokens that represent something unique in the world. Once created, they cannot be modified. The cryptocurrency market uses NFTs to trade assets such as an illustration, a painting, a song, and - now - a fact-check.
NFTs have fuelled the way artists, musicians and brands negotiate their best pieces of work. Last Sunday, for example, The New York Times sold its first NFT article for $536,000. Months earlier, a Singaporean investor bought a digital photo montage by artist Beeple for $69.3 million. Currently, the NBA trades videos of its players' top shots using NFTs and cryptocurrencies.
For FACTS-NFT, this system can guarantee a relevant revenue stream for fact-checkers around the world and can be impactful in the fight against misinformation.
About FACTS-NFT
FACTS-NFT is an initiative of:
Gabriel Rondon (Paris, France): Always involved in projects that span bitcoin applications, decentralized finance, autonomous banking, smart contracts, non-fungible tokens. Gabriel is an enthusiast and consultant in the blockchain industry, with a solid experience in handling crypto products globally, such as Kraken, Kraken Futures, Bitfinex.
Thiago Rondon (São Paulo, Brazil): He is co-founder of the startup AppCívico, which supports organizations and leaders with civic technologies. Digital coordinator to combat disinformation in the Superior Electoral Court in the 2020 elections.
Cristina Tardáguila (Tampa, United States): Founder and partner of Lupa, the largest fact-checking organization in Brazil. She served as the associated director of the International Data Verification Network until March 2021 and coordinated the #CoronaVirusFacts alliance, the world's largest collaborative verification project. In Brazil, she has worked as a reporter and an editor for O Globo, Folha de S.Paulo, and piauí magazine.
Isaac Rodriguez (México D.F, México): Is a visual designer and, since 2018 handles different projects regarding fact-checking and mis/disinformation
About the fact-checking partners:
Agência Lupa - http://lupa.news
Lead Stories - https://leadstories.com/
Newtral - https://www.newtral.es/
Taiwan FactCheck Center - https://tfc-taiwan.org.tw/
To contact us:
https://twitter.com/FactsNft
Email: [email protected]