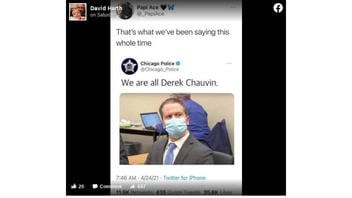 Did the Chicago Police Department's Twitter account tweet a statement in support of Derek Chauvin, the Minneapolis police officer who was convicted in the death of George Floyd? No, that's not true: the Chicago police account does not have any such tweet on its page or in archived tweets from its account.
The claim, which went viral on Twitter, appeared in a Facebook post (archived here) that was published on April 24, 2021. The post was a screenshot of the quoted tweet, which features what looks like a screenshot from the Chicago Police Department's Twitter account that read:
We are all Derek Chauvin.
In response to the Chauvin screenshot, the Twitter user who quoted it said:
That's what we've been saying this whole time
This is what the post looked like on Facebook at the time of writing:
(Source: Facebook screenshot taken on Mon Apr 26 16:28:21 2021 UTC)
The Chauvin tweet does not appear on the Chicago police's Twitter account page and Lead Stories found no additional evidence that the Chauvin tweet is legitimate. Because the picture of Chauvin used in the fake screenshot was from the verdict portion of Chauvin's trial, we checked the Internet Archive for tweets from the Chicago Police's official Twitter that were posted during the verdict on April 20, 2021, and following the trial. None of the tweets in the archive even mentioned Chauvin.
According to its Twitter account, the Chicago Police Department did attempt to have the viral tweet containing the fake screenshot removed. CWBChicago, which publishes public safety coverage about Chicago's North Side neighborhoods, tweeted statistics about the viral tweet. A user asked whether the tweet violated Twitter's terms of service. The Chicago Police Department responded:
We reported the tweet and were just notified by Twitter that they reviewed the content, and didn't find a violation of their policies, so no action will be taken at this time.
A screenshot of the exchange appears below: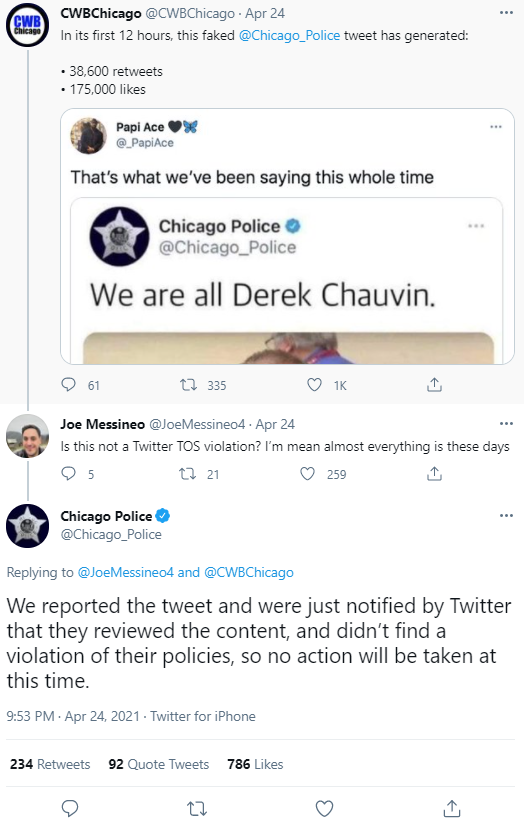 (Source: Twitter screenshot taken on Mon Apr 26 16:20:29 2021 UTC)
Lead Stories reached out to the Chicago Police Department's office of news affairs on April 26, 2021. A representative said that the department has not received any further correspondence from Twitter regarding the viral tweet.
Twitter's terms of service permit parodies, but not impersonation. It's unclear if the fake Chicago Police Department tweet violates those policies. Lead Stories has reached out to Twitter to seek clarification and will update this fact check, as appropriate, when a Twitter representative responds.