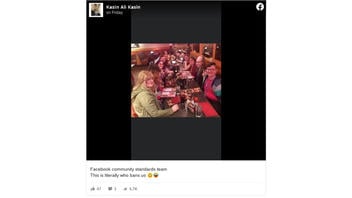 Does a photo of a dozen people dining at a restaurant show Facebook's community standards team? No, that's not true: The photo was first published in 2018 on a Facebook page of "Flat Earthers," a group that challenges the idea that the earth is a sphere. The photo used to mock Facebook employees who enforce "community standards" on the social media platform does not show them.
The claim appeared in a post (archived here) on April 23 2021 featuring the group photo with the caption:
Facebook community standards team
This is literally who bans us 🙃😂
This is what the post looked like on Facebook at the time of writing:
(Source: Facebook screenshot taken on Mon Apr 26 17:10:05 2021 UTC)
A reverse image search revealed social media posts that re-used the photo, including this July 2018 post:
Besides being flat earthers, does this look like a group of Liberals or conservatives? Pretend you had to put money on it. Which would you pick?
Others re-used the image, focusing on the shape of the skull of one person in the picture as the basis for mocking flat earthers. It was used in a blog on HiddenIncasTours.com titled "People With Elongated Skulls: Do They Still Exist?" appeared in April, 2019:
A photo taken from the flat earthers society. The irony pic.twitter.com/SEghmapWxi

-- Tv.ScreenplayWriter (@LazyStona) April 25, 2019
The image no longer appears on the Flat Earth Believer Facebook page and the administrator has yet to respond to Lead Stories inquiries.
If you want to see what Facebook's community standards team really looks like, watch this video:
You can read about Facebook's community standards here.
(Editors' Note: Facebook is a client of Lead Stories, which is a third-party fact checker for the social media platform. On our About page, you will find the following information:
Since February 2019 we are actively part of Facebook's partnership with third party fact checkers. Under the terms of this partnership we get access to listings of content that has been flagged as potentially false by Facebook's systems or its users and we can decide independently if we want to fact check it or not. In addition to this we can enter our fact checks into a tool provided by Facebook and Facebook then uses our data to help slow down the spread of false information on its platform. Facebook pays us to perform this service for them but they have no say or influence over what we fact check or what our conclusions are, nor do they want to.)