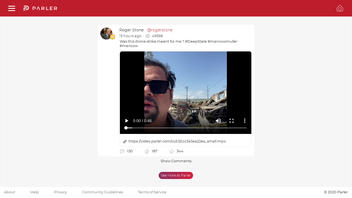 Did a military drone launched by the "Deep State" target a building near Trump adviser Roger Stone's office in Florida? No, that's not true: The explosion and subsequent fire began with a leaking liquid petroleum tank inside a Styrofoam manufacturing facility on April 20, 2021, according to the local fire chief.
The video appeared in a Parler post (archived here) by Donald Trump adviser and conspiracy theorist Roger Stone on April 23, 2021, under the title "Was this drone strike meant for me ? #DeepState #mancowmuller #mancow". The video shows former Chicago radio host Erich "Mancow" Muller standing with Stone near the burned warehouse. It opened:
Erich Mancow Muller: Hey, I tried to go live and I've never had this happen, they keep cutting me off. Roger Stone is here with me. We're two doors down from his office. There was a drone strike in America two days ago. Folks, I'm telling you, this is incredible. Why is this not major news? I'm in Fort Lauderdale. Roger, do you think you were the target?

Roger Stone: I don't know. This building is catty corner from my office. There was an enormous explosion which is as yet unexplained. Some speculation that it was a drone attack. The valiant fighters in the Broward County Fire Department got it under control, but it took 24 hours to do so. As you can see this vehicle's completely ...

Muller: Look at this, look at this, it's crazy. Drone strike. And they won't let me go live.
This is what the post looked like at the time of writing:
Was this drone strike meant for me ? #DeepState #mancowmuller #mancow

-- Roger Stone rogerstone Friday, April 23, 2021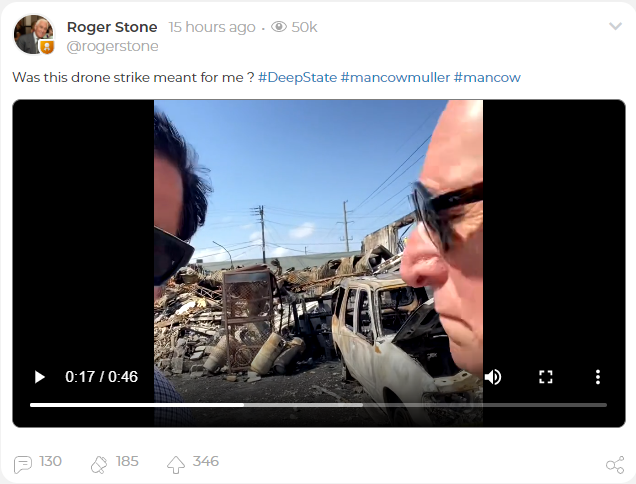 Stone and Muller appeared to be standing near Barco Sales & Manufacturing, which is in the Oakland Park warehouse district.
Miami's WPLG-TV reported on the fire:
A massive 2-alarm fire in a warehouse district in Oakland Park had plumes of thick black smoke blanketing the neighborhood and into the sky from a manufacturing building at Dixie Highway near Northeast 7th Avenue.

Around 11:05 a.m., the city of Oakland Park Fire Department responded to the fire at 4201 N.E. 6th Ave.
Oakland Park Fire Chief Stephen Krivjanik told WPLG-TV that the building did house a foam manufacturing business:
The business was a manufacturer of commercial grade Styrofoam that is very flammable. There were some explosions that occurred with liquid petroleum tanks -- gas tank -- that were going off because of the fire."
Florida's Sun-Sentinel newspaper quotes Krivjanik saying:
There were multiple liquid petroleum [propane] tanks exploding due to the heat. Even when I arrived, they were [still] exploding all around the street."
Contrary to Stone's claim that there was "some speculation that it was a drone attack," there was none in any of the local media reports. Stone and Muller offered no evidence that a drone strike caused the explosion and fire. They also did not offer any reason that Stone's office would be targeted by a U.S. drone.
Lead Stories contacted the chief via email and telephone and we will update this story when he responds.