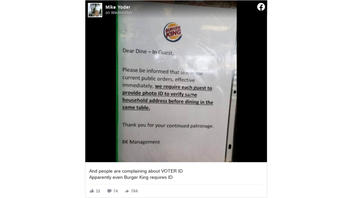 Does Burger King Corporation require its patrons to provide identification verifying a shared address in order to dine in at the same table? No, that's not true: While the Canadian province Manitoba implemented such a COVID-19 policy for restaurants, that is not a Burger King corporate policy.
The claim appeared in several social media posts, including a Facebook post (archived here) published by user Mike Yoder on April 14, 2021. The post featured an image of a sign attributed to Burger King, which stated:
Dear Dine - In Guest,

Please be informed that under the
current public orders, effective immediately,
we require each guest to
provide photo ID to verify same
household address before dining in the same table.

Thank you for your continued patronage.

BK Management
The post's caption read:
And people are complaining about VOTER ID
Apparently even Burger King requires ID
This is what the post looked like on Facebook on April 15, 2021:
(Source: Facebook screenshot taken on Thu Apr 15 19:16:27 2021 UTC)
In the United States, Republican-controlled legislatures have been criticized by President Joe Biden, voting rights advocates, businesses and even celebrities for enacting tougher voter qualification laws. Following the accusations of election fraud that plagued the 2020 U.S. presidential and U.S. Senate elections, states like Georgia enacted new laws concerning voter identification.
However, the voter identification laws in the United States are not the same as identification requirements in Canada, where the Burger King in the post is most likely located. After searching for possible COVID-19 policies that match the one described in the sign, Lead Stories discovered that Manitoba's policy mirrors the one in the post's photo. The government of Manitoba's "Current Public Health Orders" were last updated on April 8, 2021 and went into effect on April 9, 2021.
In an email to Lead Stories on April 15, 2021, Sharron Fry, director of marketing for Redberry Restaurants, a franchisee that represents more than 40% of Burger King restaurants in Canada, confirmed that Burger King locations in Manitoba abide by local COVID-19 policies:
Yes, the restaurants in the province of Manitoba are operating under the Public Health guidelines as outlined on the government website ... and specifically under the current legislation relating to restaurant operations.
Fry referred to section 6, subsections 3 and 7, and section 7, subsections 3, 4 and 6, in the public health orders document to justify the dine-in policy for Burger Kings in Manitoba. Screenshots of both of the sections -- which appear in the document in both English and French -- are included below: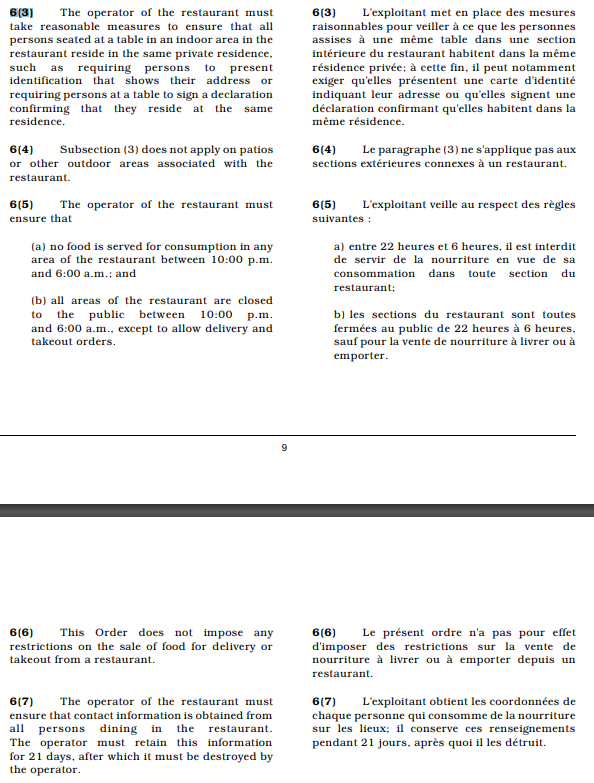 (Source: Screenshot of Manitoba public health orders, section 6 taken on Thu Apr 15 18:20:29 2021 UTC)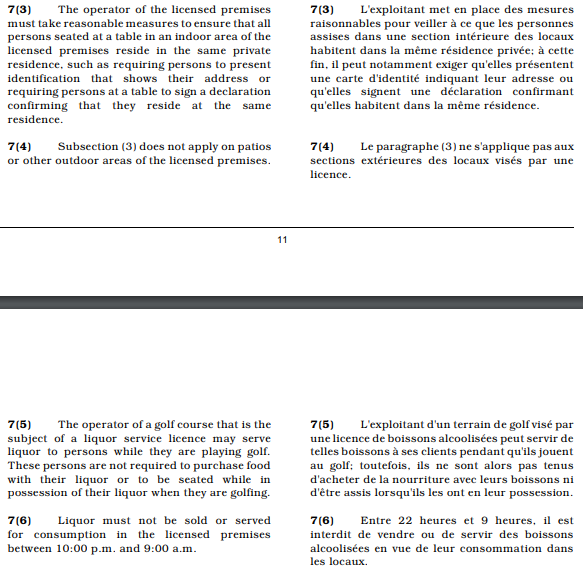 (Source: Screenshot of Manitoba public health orders, section 7 taken on Thu Apr 15 18:26:52 2021 UTC)
Lead Stories also contacted Burger King Corporation using its global communications contact information to verify whether the sign was real. The corporation could not verify if the sign was actually put up at any of its locations. However, in an email to Lead Stories on April 14, 2021, a Burger King spokesperson confirmed the I.D. policy did not originate with Burger King:
We're quickly working to investigate the origin of this sign and restaurant location where it may have been posted. This is not a policy that we've put in place as a brand. We do, however, encourage our franchisees to follow locally mandated COVID-19 protocols in the areas in which they operate. We are working to learn more and will share an update as we do.
Lead Stories was not able to identify the exact Burger King location that displayed this sign. However, all restaurants in Manitoba have been encouraged by the province's government to display signage, including a door sign and a table tent card, describing its COVID-19 dine-in policies: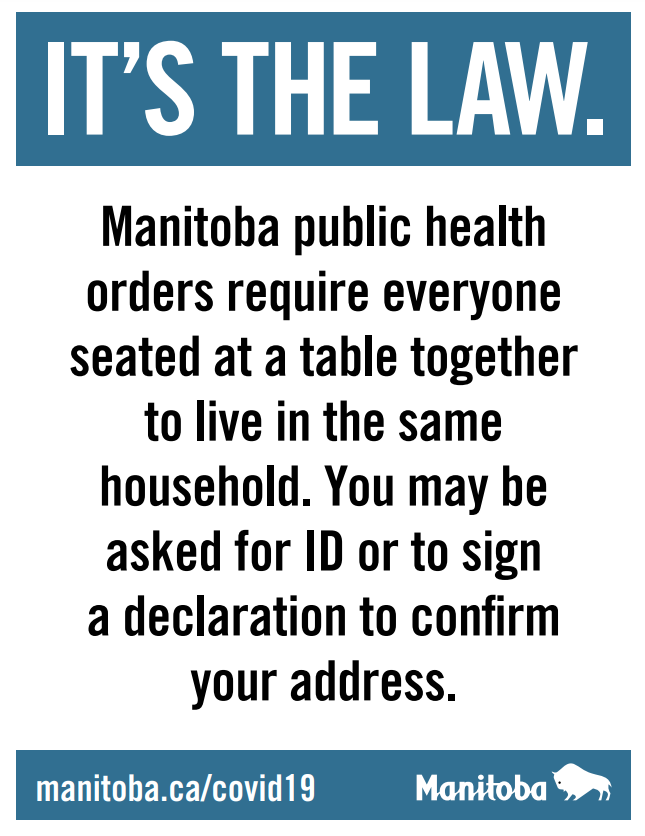 (Source: Screenshot of Manitoba door sign taken on Thu Apr 15 21:15:11 2021 UTC)