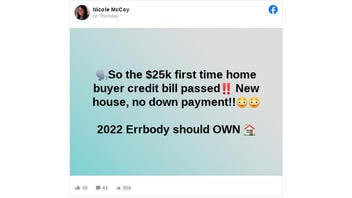 Was a $25,000 first-time homebuyer credit bill passed by Congress? No, that's not true: the proposed Downpayment Toward Equity Act of 2021 would allow qualifying homebuyers to receive up to $25,000 in homebuying assistance. However, the act is still a draft bill and has not been passed by Congress at the time of this writing, on May 3, 2021.
The claim appeared in a Facebook post (archived here) that was published on April 29, 2021. The post said:
🗣So the $25k first time home buyer credit bill passed‼️ New house, no down payment!!😳😳
2022 Errbody should OWN 🏠
This is what the post looked like on Facebook at the time of writing:
(Source: Facebook screenshot taken on Mon May 3 16:54:28 2021 UTC)
The Downpayment Toward Equity Act was first introduced as a discussion draft to the U.S. House Committee on Financial Services at meeting of the full committee on March 10, 2021.
According to a summary of the proposed act from the National Council of State Housing Agencies, the act would establish a grant program for states to give financial assistance to first-time, first-generation homebuyers toward the down payment on their home, or assistance for reducing the interest rate on a mortgage or for closing costs. The act defines a "first-time home buyer" as someone who has not owned a home for three years prior to the time they are eligible for the grant and defines a "first-generation home buyer" as someone whose parents or guardians never owned a home in the potential homebuyer's lifetime or whose parents or guardians lost a home for financial reasons and currently do not own a home. The definition also includes any individual who lived in foster care.
Qualified homebuyers could receive up to $20,000 through the act. For potential homebuyers to receive the maximum amount of $25,000, they would have to identify as a "socially and economically disadvantaged individual." According to the act's summary:
The act defines "socially disadvantaged individuals" as "those who have been subjected to racial or ethnic prejudice or cultural bias because of their identity as a member of a group without regard to their individual qualities." An "economically disadvantaged individual" is one who meets the bill's income requirements.

Any individual identifying as Black, Hispanic, Asian American, Native American, or any combination thereof will be presumed to meet this definition. Any individual who does not identify as such will have to prove by a preponderance of evidence that they are socially disadvantaged.
Income requirements for all potential grantees also apply:
...home buyers must have an income at or below 120 percent of area median income (AMI) for either the area where the home being purchased is located or the area where the home buyer's place of residence is located. For home buyers purchasing homes in high-cost areas, the income limit is increased to 180 percent of AMI for the area in which the home being purchased is located.
Joe Biden proposed an advanceable, refundable $15,000 tax credit for first-time homebuyers as a part of his 2020 presidential campaign. As described on his campaign website, the proposed First Down Payment Tax Credit:
...will help families offset the costs of homebuying and help millions of families lay down roots for the first time. Building off of a temporary tax credit expanded as part of the Recovery Act, this tax credit will be permanent and advanceable, meaning that homebuyers receive the tax credit when they make the purchase instead of waiting to receive the assistance when they file taxes the following year.
Biden's tax credit had not been approved by Congress at the time of this writing. Neither the First Down Payment Tax Credit nor the Downpayment Toward Equity Act are mentioned in Biden's American Jobs Plan, which was announced in March 2021 as the Biden administration's plan to spur job and infrastructure growth.