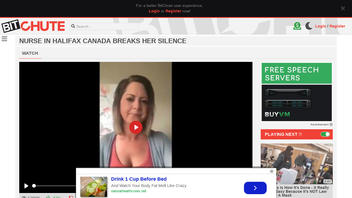 Does a video, purportedly from a nurse in Halifax, Canada, contain only accurate and true statements about COVID-19? No, that's not true: The video is chockful of fabrications, verifiably false claims that have been debunked. Among the disproven allegations are statements that the head of the U.S. Food and Drug Administration (FDA) announced that he wouldn't authorize vaccines, that the shots aren't effective and that the pandemic is being used as a ploy or guise for the "1% to take over the world." All have been debunked before, and the "nurse," who identifies online as a tarot reader, does not provide any new or credible corroboration.
The video (archived here), published on BitChute on May 2, 2021, was titled "Nurse In Halifax Canada Breaks Her Silence." It consists of a woman speaking directly to the camera. Among the first things she talked about was the FDA. She said:
The FDA has stated, this is the head of the FDA that spoke, and he said that his 17,000+ employees and himself will not approve or authorize any vaccinations.
Users on social media saw this title, description and thumbnail:
Mirrored - https://brandnewtube.com/watch/a-must-watch-nurse-in-halifax-breaks-her-silence-please-share_FGBlKzat8GTUyNf.html COMMON LAW: Learn Common Law With Knowledge Is Power (Work your way through tabs at the top of page) - http://knowledgei...
Her claim about the FDA is not true, as Lead Stories has written about before. See here for that story, which documented how a quote from the former commissioner was cut short to change its meaning. Stephen Hahn told a Senate committee in 2020 that the "FDA would not authorize or approve any COVID-19 vaccine ..." but that was just part of his sentence, which went on to say vaccines would only be authorized or approved after meeting the FDA's strict standards. At the time of writing, May 3, 2021, the FDA has authorized three COVID-19 vaccines for emergency use.
At two minutes, 33 seconds, the woman in the video questions the effectiveness of the vaccines. She says:
Why are you going to get a vaccine? They are not effective. They do not stop the transmission. Since vaccinations have been rolling out across the world, COVID cases have skyrocketed.
No vaccine is 100% effective and population vaccination rates remain low in many places; however, all of the approved vaccines are effective at preventing COVID-19 and "related serious outcomes, including hospitalization and deaths," according to the FDA. The U.S. Centers for Disease Control and Prevention (CDC) similarly says that the vaccines will help protect you from getting sick or seriously ill, and may also help protect people around you. President Trump appeared on FOX news to encourage his supporters, who are the most resistant to vaccination, to get the vaccine as he did in January of 2021.
In some places, it's true that COVID-19 cases have continued to climb amid vaccination efforts, but that fact isn't proof the vaccines are causing cases to skyrocket. Dr. Anthony Fauci, director of the National Institute of Allergy and Infectious Diseases, addressed this apparent paradox during a briefing on March 19, 2021. He said:
The concern is that throughout the country, there are a number of state, city, regions that are pulling back on some of the mitigation methods that we've been talking about: the withdrawal of mask mandates, the pulling back to essentially non-public health measures being implemented. This is something that each of us have expressed concern about that is really quite risky to declare victory before you have the level of infection in the community to a much, much lower level than 53,000 cases per day. So it is unfortunate, but not surprising, to me that you are seeing increases in number of cases per day in areas -- cities, states, or regions -- even though vaccines are being distributed at a pretty good clip of 2 to 3 million per day.
Unlike Fauci, the woman in the video does not appear to be schooled in public health and virology. The video originally appeared on the Facebook page of "Shanon Sheppard," who identifies herself as a tarot reader, jewelry designer and entrepreneur. That page, as well as her website, does not say anything about her being a nurse although she is identified as such in the title of the video. She also does not claim to be a nurse in the video. Here is her listing of credentials on her Facebook page, with no reference to a nursing degree: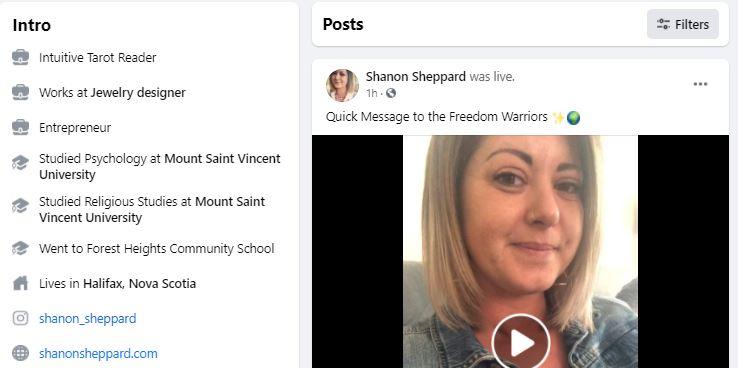 At five minutes, 20 seconds, the woman says that the media is mispresenting the situation in India, showing old images in a bid to make COVID-19 look worse than it is. She claims:
This is not COVID. This is the vaccinations, and all of the videos and pictures that you are seeing are from May of 2020 during the gas leak.
While she is correct that there was at least one instance where gas leak victims were incorrectly identified as victims of COVID-19 (see the editor's note at the bottom of this link), she is not correct that all of the images are old. There was a mistake; it was corrected, and there is no doubt that the virus is wreaking havoc in India, where close to 220,000 people have died from COVID-19 at the time of writing, May 3, 2021.
At 13 minutes, 35 seconds, the woman in the video alludes to alleged trials. She says:
Look at the Nuremberg trials that are taking place now. They are speaking out. They have told you what is happening.
There is no evidence Nuremberg-style trials are taking place, nor that they will. She offers no specific date, place nor case in making that claim.
The Nuremberg Code, a set of principles that grew out of the Nuremberg trials at the end of World War II, applies to human experimentation, not approved vaccines. Lead Stories have written about Nuremberg claims before. See here and here for those stories, which found that mandatory vaccinations are not in violation of the Nuremberg Code and that vaccinators are not violating the code if.
At various points in the video, the woman seems to suggest or imply that measures being taken around COVID-19 are part of a secret plan. At 11 minutes, two seconds, she says:
After the military are deployed here for health reasons, you are then going to see the U.N., stormtroopers, on your streets. How do you feel about that? Do you think it's about health?
At 16 minutes, 15 seconds, she identifies a purported ulterior motive, saying:
We are drowning humanity because the 1% want to take over the world.
Again, she offers no evidence to back up her allegation. There's no proof the 1% of wealthiest individuals is using COVID-19 "to take over the world."
Lead Stories has previously addressed a related claim -- that COVID-19 was created as a diversionary tactic to distract the masses from misdeeds of global elites -- and found it lacking. See here for that story. Debunked conspiracy theories claiming "elites" caused the pandemic have circulated online since 2020.